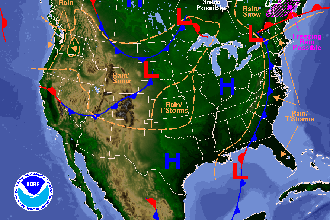 Published
Friday, March 25, 2016
For the optimist looking for precipitation in Kiowa County this weekend, there is hope in the forecast for Friday night and Saturday - though in very slim amounts.
There is a 20 percent chance of rain after 2:00 p.m. Friday (March 25, 2016), turning to a 30% chance of a rain/snow mix overnight. Less than 0.10 inch is expected.
Saturday brings a 50 percent chance of a rain/snow mix, with less than one-half inch of snow accumulation expected. Precipitation chances drop back to 20 percent Saturday night, and are non-existent for the next several days after that.
The high temperature is expected to reach 60 Friday before falling to the 40s and 50 for Saturday and Sunday. Look for 70s to start the new week. Overnight temperatures will be in the upper teens to mid-20s.
Saturday will also be breezy, with north winds 15-20 miles per hour, moderating slightly Sunday to 5-15 mph.
For the moment, the week is not expected to start off with fire weather alert as it has for the past several weeks. However there is some uncertainty, and Tuesday could once again bring a Red Flag Warning. Check our week-ahead outlook Sunday for updates.