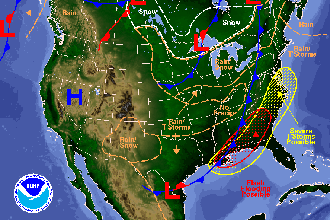 Published
Friday, April 1, 2016
Another dry weekend is in the forecast for southeast Colorado and Kiowa County - and once again fire alerts will be possible early in the week.
Friday (April 1, 2016) starts off cooler and windy, with a high in the low 50s and north wind 10-20 miles per hour.
Five to 15 mph wind is expected Saturday and Sunday, with highs in the upper 60s to low 70s. Overnight lows will be 30s.
Monday continues the warming trend with a high in the low 70s, and Tuesday will approach 80.
Winds will be in the 10 to 20 mph throughout the week, and overnight temperatures will stay in the low to mid-30s.
While winds Tuesday will not be as strong as last week, watch for increasing fire danger and associated alerts. Fuels are dry from the general lack of precipitation, and the higher temperatures can contribute to critical fire weather.
Forecast confidence for the remainder of the week is low. While a system is moving in from the Pacific, models are not in agreement about the impacts. Check back Sunday for our week-ahead outlook.