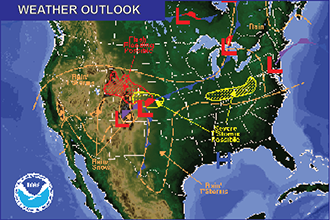 Published
Saturday, May 7, 2016
By Chris Sorensen
Spring has sprung in Kiowa County, with warmer temperatures and chances of thunderstorms making their annual appearance.
Saturday starts off windy, with afternoon south winds 25-30 miles per hour and gusts to 40 mph. Temperatures will be in the low 80s, falling to the low 40s overnight. There is a slight chance of isolated showers earlier in the day.
Sunday's high will be around 75, with a 20 percent chance of thunderstorms that will continue into the evening. The overnight low will be near 40.
Looking to the week ahead, thunderstorms remain a possibility at least through Wednesday evening. Temperatures will be near seasonal norms. Highs in the mid- to upper 70s can be expected at least through Friday, with overnight temperatures in the mid- to lower 40s.