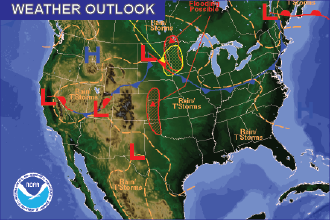 Published
Friday, July 8, 2016
By Chris Sorensen
Friday morning started off with thunderstorms across southeast Colorado, and even a tornado warning in the middle of the night for Kiowa and Prowers Counties. Chances of storms will continue through the weekend, along with hot days.
The best chances of thunderstorms will be Friday evening following early morning of rain across the county. One-tenth to one-quarter inch of precipitation is possible, however higher amounts can be expected in areas impacted by thunderstorms.
Friday's high will be near 90, falling to the low 60s overnight. The Storm Prediction Center in Norman, Oklahoma, places a slight risk for severe storms, wind, and hail in the forecast Friday. Tornadoes are also a possibility for portions of eastern Colorado, including western Kiowa County. Haswell and Arlington residents should keep and eye out for severe weather and be prepared to take shelter. As the National Weather Services says, "when thunder roars, go indoors."
A slightly lesser chance of afternoon and evening storms returns Saturday and Sunday, with highs in the mid- to upper 90s - potentially even 100 in some areas - and lows around 63.
Looking to the week ahead, mid-90 degree days will be the norm at least through Thursday. Potential for rain and thunderstorms is currently low, but subject to change as new data becomes available later in the week.