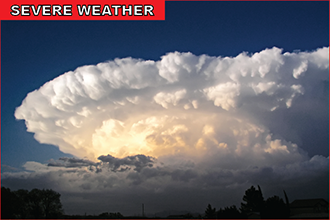 Published
Friday, September 23, 2016
By Chris Sorensen
Showers and thunderstorms - some strong to severe - are possible Friday afternoon before cooler temperatures settle in for the coming week.
Friday's high will be near 90 ahead of the storm potential that picks up after 5:00 p.m. Large hail may accompany the stronger storms.
A south wind is also expected throughout the day, with gusts in the 15-25 mile-per-hour range, increasing to 25-35 mph in the afternoon. The wind and warm temperatures have increased the fire risk in the area. Counties to the west of Kiowa County are under a Red Flag Warning for the day due to the fire danger.
Wind will continue in the 20 to 30 mph into the late evening, with gusts to 45 mph possible.
The first autumn weekend brings cooler temperatures. Saturday's high will be in the upper 70s, dropping further to the low 70s Sunday. Mid-70s will continue through Tuesday before returning to the low 80s later in the week. Overnight lows will be in the upper 30s to mid-40s this week.