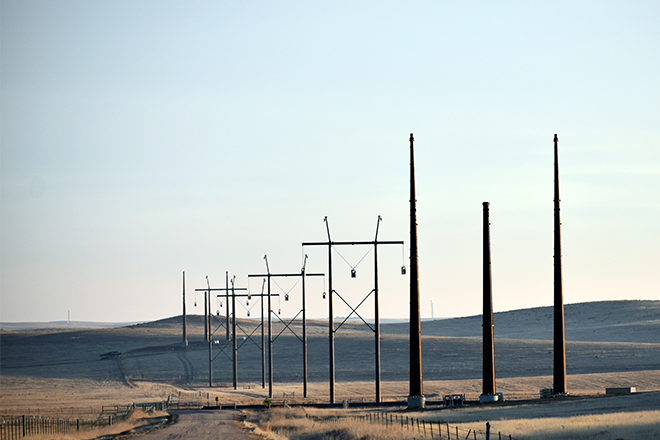 Published
Tuesday, December 20, 2022
Xcel Energy has received land use permit approvals for the proposed route for approximately 300 miles of Colorado's Power Pathway, Xcel Energy's 345-kV transmission project in Eastern Colorado. Construction work on segments 2 and 3 is planned to begin in 2023. The transformative project will upgrade the state's high-voltage transmission system, unlock renewable energy development opportunities and deliver more economical, lower-cost renewable generation to our customers and for the benefit of all Coloradoans.
Cheyenne, Kiowa, Kit Carson, Morgan and Washington Counties in eastern Colorado recently granted land use permits, enabling Xcel Energy to move forward with construction plans on Segment 2 and Segment 3 of the Pathway project. Segment 2 will be built from the new Canal Crossing substation, south of the Pawnee Generating Station in Morgan County, to the Goose Creek substation, northwest of Cheyenne Wells in Cheyenne County. Segment 3 will run from the Goose Creek substation southward to the proposed May Valley substation, north of Lamar in Kiowa County. Project staff will now begin the process of obtaining construction-specific permits, such as road-use agreements, environmental permits and permits for grading, access and project staging areas. Once these permits are obtained and land rights secured, construction will commence.


"Xcel Energy-Colorado and our eastern Colorado communities have worked closely to make significant progress on the Colorado Power Pathway project. The project will transform Colorado's electrical grid by connecting every Coloradoan with clean, low-cost energy," said Robert Kenney, president of Xcel Energy-Colorado. "The project will bring economic opportunities and improve electric reliability on the Front Range and in eastern Colorado. We believe partnering with local communities to identify and build the best possible projects will positively serve landowners and customers alike."
Approved by the Colorado Public Utilities Commission in June, Colorado's Power Pathway is a key enabler of Xcel Energy's Clean Energy Plan, a proposal that will exceed Colorado's clean energy targets and reduce carbon emissions from our customers' electricity by 85% in 2030. The $1.7B project will develop up to 610 miles of new, 345-kV transmission infrastructure will enable the connection to some of the most productive renewable energy in the region, providing a path for Xcel Energy to transition to carbon-free energy sources while continuing to deliver reliable service at affordable prices. The Colorado Clean Energy Plan includes early retirement or transition of coal plants and the addition of clean energy resources, including wind, solar and battery storage.
Since summer 2021, Xcel Energy's team has held more than 40 public meetings, virtual and in-person, to present location options for the transmission line segments, taking feedback and answering questions about route options and factors important to local areas. The team communicated with thousands of landowners, interested residents, community leaders and stakeholders through in-person meetings, the project's website, direct mailers and social and news media channels.
Construction on Segments 2 and 3 will begin in 2023; Segment 1 in 2024; and Segments 4 and 5 in 2025. The segments will be complete in 2025, 2026 and 2027 respectively. Colorado's Power Pathway will create new construction jobs as the lines are built.
Additional information can be found at ColoradosPowerPathway.com.