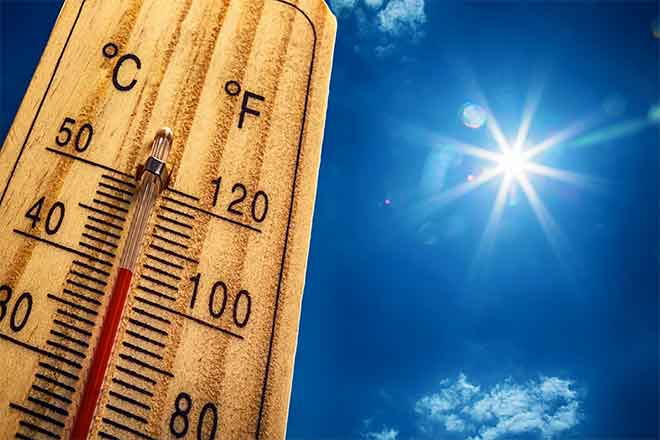 Published
Thursday, July 18, 2019
While Kiowa County doesn't face the excessive heat warnings posted in many states further east, it will still be hot - and dry - across the area.
High temperatures predictions Thursday range from 101 to 105 under sunny skies, with lows falling to the mid-60s.
Rain and thunderstorms have disappeared from the forecast at least through Saturday afternoon, with the best potential over the next seven days coming Sunday night.
Friday's conditions will be a near-copy of today, while upper 90s are expected Saturday. Mid-to upper 80s are expected Sunday through Wednesday.
Currently, KiowaCountyPress.net Live Weather from downtown Eads shows SE wind at 0 mph. Wednesday evening, winds were gusting to 24 mph during the late afternoon as a storm passed through the area. The current temperature is 67, with 0.00 inches of rain so far today. Yesterday, 0.11 inches of rain was recorded in Eads, with an unofficial high of 103. The strongest wind gust since midnight was 11 mph, while the high temperature for the day so far was 80 at 03:52 PM.
Elsewhere in Colorado, the hot weather also continues, with Lamar expecting a high of 107. A red flag warning for fire danger will be in effect later today for the northern mountains and much of Moffat County.
Weather information updated throughout the day is available at http://weather.KiowaCountyPress.net.
Kiowa County Weather Outlook for July 18, 2019

Community

High

Low

Chance of Precip

Wind Gust

Direction

Arlington

105

67

0

5

ESE

Haswell

101

67

0

10

ESE

Eads

101

66

0

10

ESE

Chivington

102

66

0

10

E

Sand Creek Massacre NHS

101

66

0

10

E

Brandon

102

66

0

10

E

Sheridan Lake

102

66

0

10

E

Towner

102

66

0

10

E