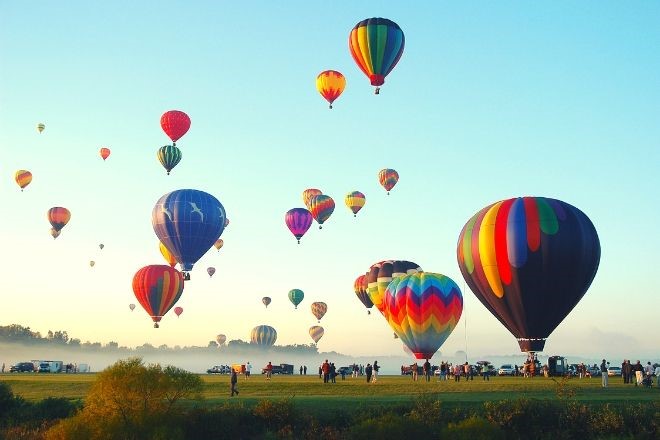 Published
Tuesday, July 23, 2019
With Colorado's varied, beautiful landscape, it's no wonder that people want to see it all from a bird's-eye view. With the help of hot air balloons, that's entirely possible. There are plenty of air balloon festivals in Colorado, some of which we have listed below. If you're hoping to experience the exhilarating view yourself, we've also compiled some of the best places to go to for rides. Check it out!
Colorado's Air Balloon Festivals: August through September
August 2-3 in Craig, CO
You won't just get hot air balloons at this festival: there's also a 5k race, live entertainment, a beer garden, and so much more. There will be 25 different gorgeous balloons, so you'll definitely want to get there early to grab a great viewing spot. Balloon launches start at 6:30 a.m., so grab some coffee and a blanket before heading to the park.
August 30-September 1 in Creede, CO
You won't want to miss this beautiful festival. On Saturday at daybreak, you'll get to see the enthralling balloon glow, with inflation starting at 6:00 a.m. Breakfast provided by the Mineral County Search & Rescue and Fire Department will be available by donation. A calming and exhilarating experience all at once, this will be a wonderful time you'll never forget.
September 6-8 in Snowmass, CO
One of the best balloon festivals in the country, the Snowmass Balloon Festival features over 30 pilots who compete in different challenges and races. As a spectator, you'll get the opportunity to take in the stunning views and capture incredible photos. Both Septemberfest and Cidermass take place on the same weekend, so there will be plenty of exciting activities to do all weekend long in Snowmass.
September 21-22 Pagosa Springs, CO
Over 40 balloons will fill the sky this weekend during the mass balloon ascension. Watch them float over Lake Pagosa and enjoy the vibrant colors. You can also enjoy a gourmet breakfast while watching the balloons float through the sky.
Best Places to Go Ballooning in CO