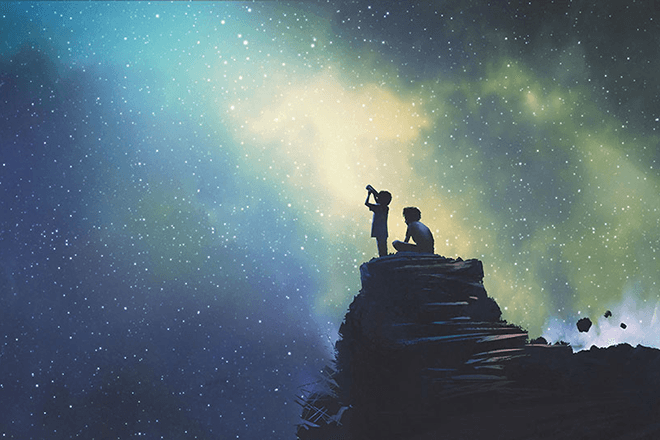 Published
Tuesday, November 20, 2018
When you think of Colorado, bright blue skies and incredible mountain views probably come to mind. But Colorado also boasts a stunning nightscape that's often overlooked. That's why we took it upon ourselves to compile the ultimate list of places to stargaze in Colorado. You can take in the Milky Way in all its glory at any of these gorgeous locations.
Great Sand Dunes National Park
The Great Sand Dunes are home to some of the most stunning nighttime views. It's one of the only locations where self-guided exploration is encouraged--even in total darkness!
Garden of the Gods
Located just far enough from the city lights of Colorado Springs, this is a great spot to view some of the most beautiful stars in the galaxy. Lean back and enjoy the wonders of the night sky.
Rocky Mountain National Park
The mountaintops are a prime location for anyone who wants to camp out under the stars. While Rocky Mountain National Park features some pretty incredible views, you can also partake in one of the evening programs if you wish to learn about the wonders of outer space.
Black Canyon of the Gunnison National Park
As one of the best International Dark Sky Parks, people go to Black Canyon when they want to stargaze off the grid. Whether you venture to its edges or into its depths, you're sure to have an incredible experience.
Chimney Rock National Monument
Chimney Rock is a wonderful blend of nature and culture. Stargazers can learn how the Chaco people used the stars for navigation, time-keeping, and spiritual guidance.
Curecanti National Recreation Area
Three sprawling reservoirs rest in the heart of Curecanti, and each holds a glimpse of the Milky Way in their reflection. On a clear night, visitors can often see distant planets and stars that aren't normally visible to the naked eye.
San Luis Valley
The most prominent spot within Saint Luis Valley is the UFO Watchtower. When you visit this stunning location, you're in for way more than just stargazing. With little to no light obstruction, it's easy to see the stars--and, if you're lucky, you may even spot an extraterrestrial.
Westcliffe & Silver Cliff
Located in Custer County, Colorado, these two communities are home to an abundance of passionate stargazers. While there are a lot of awe-inspiring stargazing spots across these two locations, Smokey Jack Observatory (SJO) is probably where you'll spend most of your time. At SJO, visitors can absorb the full impact of the Milky Way through a high-grade, computer-guided telescope.
Paint Mines Interpretive Park
This geological gem is the perfect place for visitors to capture photos of shooting stars and constellations. You're certain to fun as you explore the rocky spires, eroded gullies, and magnificent hoodoos of the Paint Mines.
Pawnee National Grassland
Pawnee National Grassland is a quiet, isolated location--which makes it absolutely perfect for stargazing. This federally protected landscape is known for its pristine sky conditions. All light slowly fades away as you go deeper into the grasslands, creating the illusion of an infinite night sky.
Whether you choose the plains or the mountaintops, these are the best spots to go stargazing in Colorado. Remember to grab your blankets, snacks, and red flashlightsbefore you head out to camp under the night sky. With so many stargazing locations across Colorado, we hope you find your sweet spot underneath the stars.