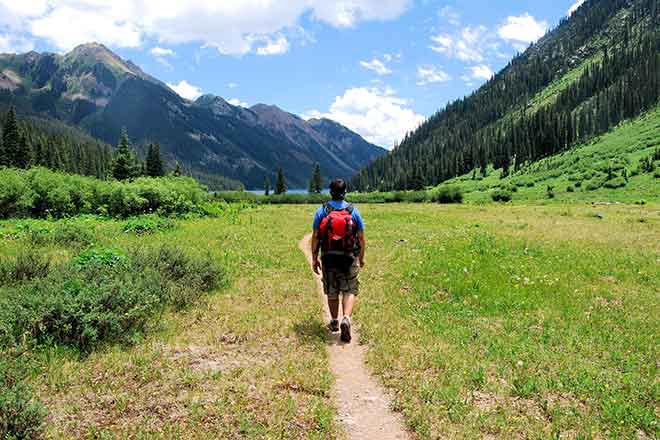 Published
Wednesday, May 31, 2023
(Colorado Newsline) Memorial Day is the unofficial kickoff to the summer tourism season in Colorado's high country, where cities and counties heavily reliant on outdoor recreation dollars on huge swaths of federally owned land are nervously watching Congress wrangle over the debt ceiling.
About a third of Colorado is owned and managed by the federal government, and agencies from the Forest Service to the Bureau of Land Management ramp up every spring to open and maintain access roads and campgrounds and to get ready for summer crowds and wildfire season.
While President Joe Biden and Republican Speaker of the House Kevin McCarthy appear to have reached a deal on raising the debt ceiling for two years and keeping the federal government funded, they still must get a bill through the narrowly divided House and its bitterly partisan Freedom and Progressive caucuses on the right and left, respectively. And they must do so by Monday, when Treasury Secretary Janet Yellen says money will start running out and tough funding choices will have to be made about which programs and agencies to pay for.
Analysts agree that in the event of a debt ceiling breach -- an unprecedented debacle that would likely trigger a global recession -- the states with most federal facilities or federally owned land will likely feel the impacts more immediately.
The White River National Forest in northwestern Colorado comprises 2.3 million acres of U.S. Forest Service land. It's the most visited national forest in the nation, in large part because of the 12 ski areas within its boundaries. As recently as 2019, outdoor recreation accounted for about $12.2 billion of economic impact in Colorado, which was more than 3% of the state's total economy, and winter activities only made up about $1.7 billion of that total.
Asked how a U.S. debt default and subsequent defunding of the Forest Service might impact Colorado's key tourism hubs at such a critical time of year, a spokesman for the White River National Forest deferred to the Forest Service national office.
"At this time, it would be inappropriate to speculate on this," Forest Service spokesperson John Winn said in an email. For reference, Winn pointed to a 2018 government shutdown contingency plan.
"This previous plan highlights the various categories and details which individuals fall into the 'excepted' category -- those that will remain working and can expect to be paid retroactively once funding is approved or extended. This category includes areas such as fire suppression, law enforcement, emergency services and more."
Cuts to rail inspections
Surrounded by the White River National Forest is Eagle County -- a state jurisdiction that is 84% federally owned and managed by the USFS and the BLM. Tourism and outdoor recreation account for rough 50% of Eagle County's $181 million in annual revenues.
"While the county is certainly aware of the deliberations at the federal level that might have local impacts, we are taking a 'wait and see' approach for the time being," said Justin Patrick, strategic director of communications for Eagle County. "Based on empirical knowledge, it's difficult to forecast the degree of disruption we might face, if any."
"The state and federal funds appropriated for this fiscal year for many programs may not be affected at all. We would work closely with state and federal partners to close gaps in service to our constituents were any disruptions to occur," Patrick added. "We'll certainly be keeping an eye on the situation and would likely ramp up logistical discussions in the event of a prolonged federal shutdown."
(McCarthy's) debt ceiling bill would make cuts to rail safety inspections at the same time the dangerous Uinta Basin Railway Project is under consideration.
- U.S. Sen. Michael Bennet
In recent weeks, speculation has run rampant that such basic federal services as air traffic control or rail inspections could be put on hold if the draconian budget cuts in the Limit, Save, Grow Act, passed by House Republicans last month, were to actually make it into a debt ceiling deal.
"(McCarthy's) debt ceiling bill would make cuts to rail safety inspections at the same time the dangerous Uinta Basin Railway Project is under consideration and after what happened in East Palestine, and it slashes the investments in clean energy we made in the Inflation Reduction Act (IRA) that have already spurred job growth in Colorado," U.S. Michael Bennet of Colorado said in an email statement, referring to a planned Utah railway expansion that would send up to five two-mile-long oil trains per day through sensitive mountain ecosystems.
While the current Biden-McCarthy deal appears to avoid the austerity of the Limit, Save, Grow Act and potential cuts to Biden's signature climate and health bill, the IRA, it's very likely far-right House members will still try to impose those cuts in coming days as the bill works its way through Congress, including the reduction in Internal Revenue Service funding Biden agreed to. Increased IRS funding to go after wealthy tax cheats and thereby reduce budget deficits is a key component of the IRA.
One aspect of the IRA not yet on the budget-ceiling chopping block is its billions in funding for U.S. Department of Agriculture conservation programs aimed at paying farmers and big agribusiness companies to save water in order to refill critical reservoirs on the drought-stricken Colorado River. That money is critical to a short-term water-sharing deal between states that rely on the Colorado River.
And transportation infrastructure funding in general, or the new spending in Biden's Bipartisan Infrastructure Law, seems to be off the table for now. Previously approved highway projects that are already underway won't be impacted.
"(The Colorado Department of Transportation) isn't affected by the June 1 federal shutdown date," CDOT spokeswoman Elise Thatcher said before Treasury's Yellen updated the government funding cutoff to June 5. "CDOT funds are already in hand for projects under construction now."
Harder for energy transition
It seems likely, however, that House Freedom Caucus members, including Rep. Lauren Boebert of Silt, over the next several days may try to impose cuts to the federal subsidies in the IRA's unprecedented $369 billion in climate spending -- money intended for everything from renewable energy projects to electric vehicles tax credits. That would likely be a dealbreaker for House Progressive Caucus members.
The Biden-McCarthy deal does include power transmission permitting reform seen as vital to accelerating clean-energy projects (along with fossil fuel development). U.S. Sen. John Hickenlooper of Colorado played a key role in moving those reforms forward. But environmentalists and some progressive lawmakers have already objected to the pace of energy reforms and are now lining up to try to torpedo the surprise inclusion in the deal of approval for a natural gas pipeline in West Virginia, the home state of Sen. Joe Manchin, whose vote will be needed in the Senate.
Astrid Atkinson, CEO of the tech company Camus Energy, partners with eight rural electric co-ops nationwide to improve grid reliability as they transition to more renewable energy, including Holy Cross Energy in Glenwood Springs. Holy Cross currently sources 50% of its electricity from renewables such as wind, solar, biomass, hydro and geothermal, and it's reportedly on pace for 92% renewable penetration by next year, with a 100% target by 2030.
"There's definitely things that regulators can do to make our lives easier or harder," Atkinson said. "The IRA is a wonderful example of just really driving a lot of money into electrification, which produces a lot of great outcomes. It doesn't necessarily directly support my business ... but having lots more EVs, lots more ... smart homes and heat pumps and transitioning people from gas to electric heat, all that stuff really helps because we're in the business of helping support change on the grid."
Regulatory stability, Atkinson added, is vital in the transition to clean energy and the push to mitigate the impacts of climate change.
"The places where it can get really difficult is states that intentionally introduce regulatory structures that are intended to stop climate action," she said. "Kentucky actually introduced legislation to prevent utilities from turning down coal. That makes my life really difficult."
The International Brotherhood of Electrical Workers on Monday threw its weight behind the Biden-McCarthy deal, issuing this statement from IBEW International President Kenneth W. Cooper:
"On behalf of the 775,000 members of the IBEW, I call on Congress to swiftly pass the Fiscal Responsibility Act of 2023 and allow the administration to put this manufactured crisis in the rearview mirror. The country's challenges are too important to allow the extremism of a few to take us to the brink of disaster; these high-stakes fiscal standoffs only serve to spook financial markets and sow doubt worldwide about the stability of the United States."
Colorado Newsline is part of States Newsroom, a network of news bureaus supported by grants and a coalition of donors as a 501c(3) public charity. Colorado Newsline maintains editorial independence. Contact Editor Quentin Young for questions: info@coloradonewsline.com. Follow Colorado Newsline on Facebook and Twitter.