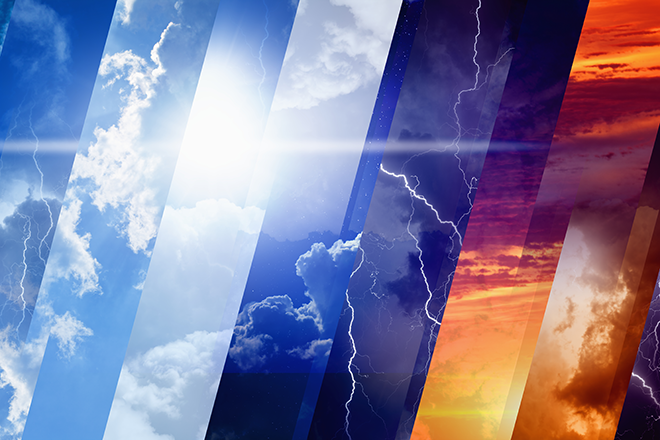 Published
Sunday, October 22, 2017
Typical fall weather starts the week across most of Colorado, though a change is possible heading into next weekend.
Eastern Plains
A cold front is on track to impact eastern Colorado Thursday night into Friday, and may bring snow to at least part of the plains. It's a bit early to be confident in the potential, so keep an eye out for forecast updates.
Sunday will be somewhat warmer than Saturday, with highs reaching into the mid-60s across the central and southern plains, and even low 70s in the northwest corner of the state along with the Arkansas River valley.
The work week will start off with mid- to upper 60s before jumping to the mid- to upper 70s Wednesday ahead of the cold front. The Limon area can expect to be a little cooler, reaching only to the upper 50s for Monday and Tuesday.
West Slope
Look for a calm autumn week across western Colorado under mostly sunny skies through at least Wednesday as a ridge of high pressure dominates the western United States. Temperatures will be mainly in the mid- to upper 60s, though the northwest will trail with mid-50s until later in week.
By Thursday, the chance for showers increases ahead of cold air heading for the area Friday.
Weather information updated throughout the day can be found at http://KiowaCountyPress.net/weather
Forecast - October 22 - 25

Sunday

Monday

Tuesday

Wednesday

City

High

Low

High

Low

High

Low

High

Low

Eads

66

40

63

32

62

35

77

42

Springfield

70

43

66

34

62

38

79

45

Trinidad

68

42

69

33

61

36

74

42

Limon

67

35

59

28

58

31

75

37

Sterling

71

40

60

32

63

36

77

40

Fort Morgan

70

39

60

30

64

34

76

37

Craig

56

38

58

27

58

28

66

31

Grand Junction

62

40

65

36

66

35

68

37

Montrose

61

38

63

34

64

33

68

35

Cortez

64

36

68

34

68

32

69

33