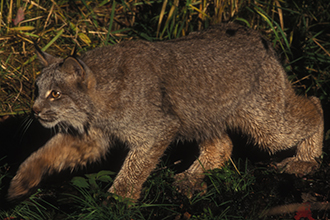 Published
Tuesday, January 10, 2017
A lynx that was spotted walking across a ski slope two weeks ago at the Purgatory Ski Resort in southwest Colorado was found dead at the area Sunday.
Purgatory ski patrol members found the animal on a ski slope on the west side of the resort in the Chairlift 8 area. Colorado Parks and Wildlife (CPW) has retrieved the carcass and it will be sent to the agency's lab in Fort Collins for a necropsy - the animal equivalent of an autopsy.
A video of the animal walking slowly across a ski run was viewed nearly a million times on social media.
CPW's veterinarians will do a complete evaluation of the animal. It will include an examination of stomach contents, a check for parasites and injuries, an assessment of its internal organs, and blood tests. Results might not be known for a few weeks. A cursory examination of the carcass by wildlife managers in Durango showed the lynx to be emaciated.
The image of the animal sauntering calmly among skiers and snowboarders drew the attention of CPW biologists. Sightings of lynx are fairly common during the winter, said Scott Wait, senior terrestrial biologist for CPW's southwest region. But after several Facebook videos appeared showing similar sightings of the animal he became concerned.
"The first time I saw it I wasn't entirely surprised because we do get a lot of reports of lynx sightings," Wait said. "But after I saw three more videos of the same animal behaving the same way in the same area I figured that something was wrong with the cat. Wild animals die of various causes just like people do."
Two lynx, a mother and a kitten, were photographed on nearby Molas Pass a week before the sighting at the ski area. Those animals walked calmly along the road as a motorist took photographs.
"We don't want people to think that a lynx is sick every time they see one," Wait said. "Lynx are doing well in Colorado, but face the same challenges all wildlife does."
In 1999, the Colorado Division of Wildlife started a lynx reintroduction program. A total of 218 lynx were transplanted from Canada and Alaska over the next seven years. Since then, multiple generations of lynx have been born. Surveys by CPW biologist show that the population of the large felines is stable.
To read more about lynx, go to the CPW web site at: http://cpw.state.co.us/learn/Pages/SOC-Lynx.aspx