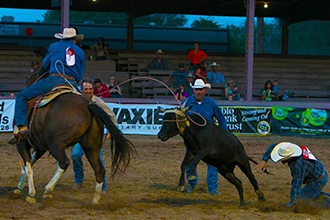 Published
Friday, August 26, 2016
The upcoming Colorado State Fair is hosting eight nights of thrilling rodeo action and each night in the Budweiser Rodeo Arena offers a different mix of entertainment and discounts.
Rodeo fans will be on the edge of their seats as Professional Rodeo's top cowboys and cowgirls compete for top scores and fastest times. PRCA Ram Rodeo announcer, Boyd Polhamus, and rodeo entertainer, John Harrison, will keep the arena hopping. Special discounts also provide rodeo fans the most bang for their buck.
Rodeo 4 Pack
Get 4 admissions, 4 food items, 4 non-alcoholic drinks, and 4 tickets to the PRCA Rodeo on August 28 or 29 for $60. (This package cannot be combined with carnival tickets and is not included in the Special Pueblo Bank & Trust pricing).
Friday, August 26
Travis Tritt & PRCA Ram Rodeo
7pm
$25
Saturday, August 27
LOCASH & PRCA Ram Rodeo, presented by Big R
7pm
$25
Sunday, August 28
PRCA Ram Rodeo with American Freestyle Bullfights
"American Heroes Day" presented by Black Hills Energy
4pm
$12
$7 for military personnel and first responders
Monday, August 29
PRCA Ram Rodeo
7pm
$10
Girls Night Out-$25: Includes 2 rodeo tickets, 2 gate admissions and 2 drinks
Tuesday, August 30
PRCA Ram Rodeo
7pm
$2 (does not include Fair gate admission)
Wednesday, August 31
Chris Janson & Wrangler Champions Challenge Rodeo, presented by Justin Boots
7pm
$30
Thursday, September 1
Calcutta & Ranch Rodeo, Sponsored by A-Affordable Disposal
6pm Calcutta
7pm Rodeo
Free with paid gate admission
Sunday, September 4
Celebracion de los Charros followed by Conjunto Primavera, presented by LaTricolor and Univision
7pm
$25
The Colorado State Fair runs August 26 - September 5, 2016. For more information, visitwww.coloradostatefair.com.
The 2016 Colorado State Fair will mark the Fair's 144th year as Colorado's premier celebration of agriculture. The Fairgrounds provides nearly $34 million in economic activity to Colorado throughout the year; $29 million of that activity is driven by the annual State Fair event. In addition to showcasing Colorado agriculture, the annual event features one of the country's largest traveling carnivals, artwork, crafts, food competitions, thrilling rodeo action, a wide variety of food and merchandise booths and a Fiesta Day honoring Colorado's ties to the Hispanic culture.