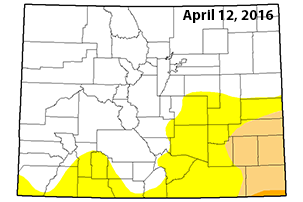 Published
Thursday, April 14, 2016
Even with rain in parts of southeast Colorado Sunday night into Monday morning, drought conditions continued to expand, and worsened in Baca County according to data released April 14, 2016, by the National Drought Mitigation Center.
While the overall area considered abnormally dry or in some level of drought decreased by a fraction of a percent, Montezuma County in southwest Colorado now has a large area considered abnormally dry, and southeast Cheyenne County has entered moderate drought.

Severe drought also made an appearance this week, impacting southern Baca County. Expansion of dry conditions has been generally progressing from the southeast corner of the state to the north and west.
In addition to Montezuma, abnormally dry areas across southern and southeastern Colorado include Kit Carson, Lincoln, Elbert, El Paso, Crowley, Pueblo, Fremont, Huerfano, Costilla, Conejos, Archuleta, La Plata, Mineral, Hinsdale and San Juan Counties.
Moderate drought is impacting most of Kiowa and Bent Counties, all of Prowers and the remainder of Baca County that is not under severe drought. Moderate drought also touches Otero and Las Animas Counties.
There is some hope in the forecast over the next several days. A low pressure system is expected to bring heavy snow to the mountains and 1-3 inches of rain to much of the eastern plains Friday afternoon through Sunday.
Although temperatures in the area will be around 80 Thursday and Friday, the incoming system will moderate temperatures, with highs ranging from the upper 40s Sunday to 50s and 60s well into the coming week.
A Red Flag Warning is in effect for most of eastern Colorado Thursday from noon until 7:00 for high fire danger.