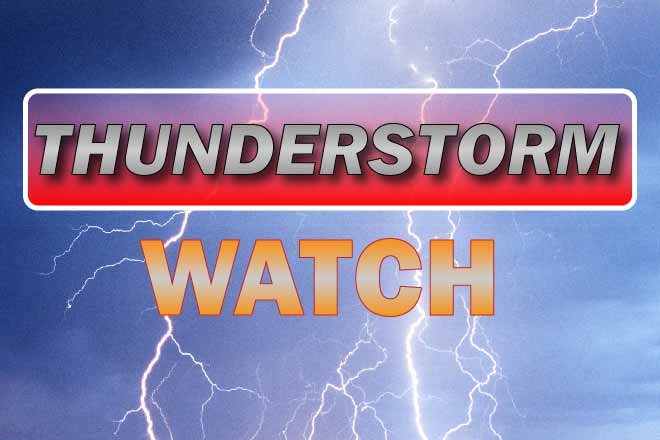 Published
Friday, August 23, 2019
The National Weather Service has issued a severe thunderstorm watch until 10:00 p.m. Friday for most eastern Colorado counties. Portions of Kansas, Nebraska, Oklahoma, New Mexico and Texas are also included. An additional watch issued later in the afternoon stretches further into Nebraska, and also includes part of South Dakota and a large area in Wyoming.
Isolated to scattered severe thunderstorms are expected across the watch area.
Shortly after 2:30 p.m., a severe thunderstorm warning was already in effect for northeast El Paso County. That storm, located southwest of Limon, was expected to bring 60 mile per hour gusts and quarter-size hail, and was set to expire at 3:15 p.m. Another warning was for central Elbert County, which expired just before 3:00 p.m.
Additional storms developing in other areas over the course of the afternoon and evening could bring similar conditions, as well an unlikely potential for tornadoes.
Cheyenne, Kit Carson, and Yuma counties are under a flash flood watch until 6:00 p.m. Rainfall of 1-3 inches is expected in the area, with some areas potentially receiving even greater amounts.
Colorado counties included in the thunderstorm watch
Adams
Arapahoe
Baca
Bent
Cheyenne
Crowley
Elbert
El Paso
Kiowa
Kit Carson
Las Animas
Lincoln
Logan
Morgan
Otero
Phillips
Prowers
Pueblo
Sedgwick
Washington
Weld
Yuma
Elsewhere in Colorado, red flag warnings are in effect for high fire danger in Moffat and Rio Blanco counties, which continues until 8:00 p.m. Friday. Strong winds, dry fuels and low relative humidity, along with high temperatures, are creating conditions where any fires that start could spread rapidly.