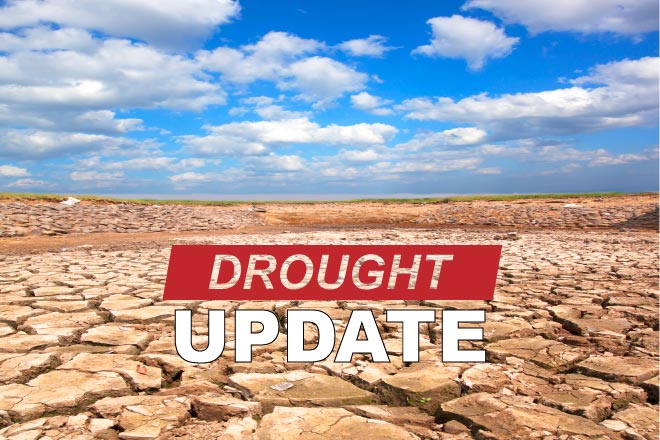 Published
Saturday, June 13, 2020
Extreme drought made another large increase in southern Colorado according to the most recent update from the National Drought Mitigation Center.
Remaining areas of Las Animas, Bent, and Baca counties that had been in severe drought shifted into extreme conditions. Extreme conditions also grew in Huerfano, Crowley, and Lincoln counties, and entered southeast Pueblo County.
Severe drought expanded toward the north, increasing in Elbert, Lincoln, and Cheyenne counties. Severe conditions also expanded into southern Kit Carson County.
Above-normal temperatures and strong wind have contributed to conditions degrading. NDMC notes widespread sales of cattle in the region.
Trinidad in western Las Animas county has recorded just 1.66 inches of precipitation between January 1 and June 9, the driest start to the year since 1948 when records began.
Over the coming week, temperatures in the 90s to low 100s are expected over Colorado's eastern plains, decreasing slightly late in the week.
Overall, 23 percent of Colorado is free from drought and 13 percent is abnormally dry - both categories unchanged from the prior week. Moderate drought decreased two percent to 14, while severe conditions dropped from 28 to 24 percent. Both decreases were due to expansion of the next higher category. Extreme drought jumped from 19 percent to 25. Percentages do not total 100 due to rounding.
Just under 1.4 million people in Colorado live in drought-impacted parts of the state.
Nearly two-thirds of the state is experiencing moderate drought or worse. One year ago, Colorado was free from abnormally dry conditions and all levels of drought for the first time since tracking began in 2000.
Drought classes include (ranked from least to most severe) D0 - abnormally dry, D1 - moderate, D2 - severe, D3 - extreme, and D4 - exceptional drought.
Colorado Drought by the Numbers

Week

Date

None

D0

D1

D2

D3

D4

Current

6/9/20

23

13

14

24

25

0

Last Week

6/2/20

23

13

16

28

19

0

3 Months Ago

3/10/20

30

23

44

3

0

0

Start of Calendar Year

12/31/19

32

17

31

20

0

0

Start of Water Year

10/1/19

30

42

28

0

0

0

One Year Ago

6/11/19

100

0

0

0

0

0