Image
Fire danger: Red Flag Warning for southeast Colorado Monday, watch Tuesday
The National Weather Service has issued a red flag warning in southeast Colorado Monday for high fire danger.
Temperatures are expected to reach the mid- to upper 70s, while wind out of the southwest will gust up to 40 miles per hour. Relative humidity is predicted to drop to the mid-teens. Those conditions will favor rapid growth and spread of any fires that start. The NWS is discouraging ourdoor burning or any activity that could spark a fire.
Image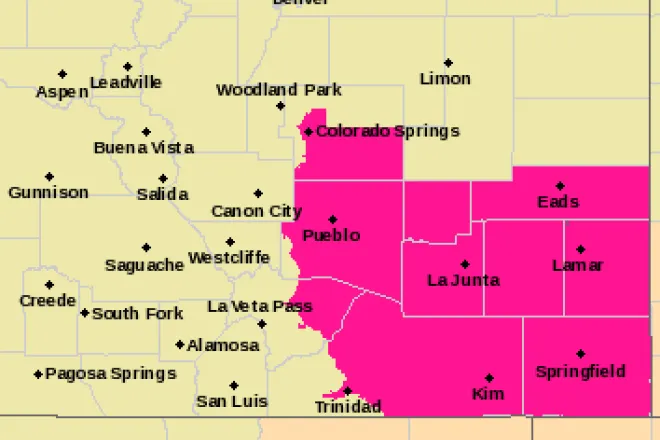 The warning is in effect from 11:00 a.m. until 6:00 p.m. All of Crowley, Kiowa, Otero, Bent, Prowers and Baca counties are included in the warned area, along with most of Las Animas and Pueblo counties. Eastern Huerfano and southern El Paso counties are also included.
A fire weather watch is in effect for much of the same area Tuesday, which extended into New Mexico, Texas, Oklahoma and Kansas. The watch is likely to convert to a warning.
Temperatures in the Rocky Mountain and plains states have been unusually warm. AccuWeather Senior Meteorologist Brett Anderson predicted temperatures between 15 and 30 degrees above normal through the weekend. That warmup is expected to continue into at least the early part of the week, with temperatures remaining in the 70s through Tuesday before falling back to the 60s Wednesday in southeast Colorado.
Image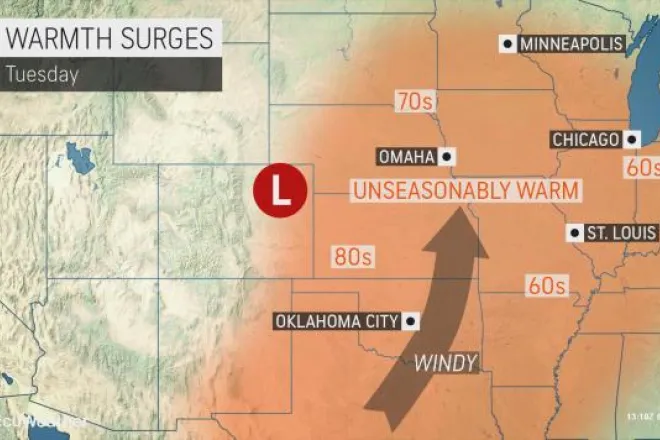 AccuWeather says many daily high temperature records in northern and central portions of the United States are in serious jeopardy of being completely shattered Tuesday. A few of those records even date back to the late 1800s.
A red flag warning was in effect for northeast Colorado Saturday, however no major fires were reported. That warning extended into portions of Kansas, Nebraska, Wyoming, South Dakota, North Dakota and Montana.