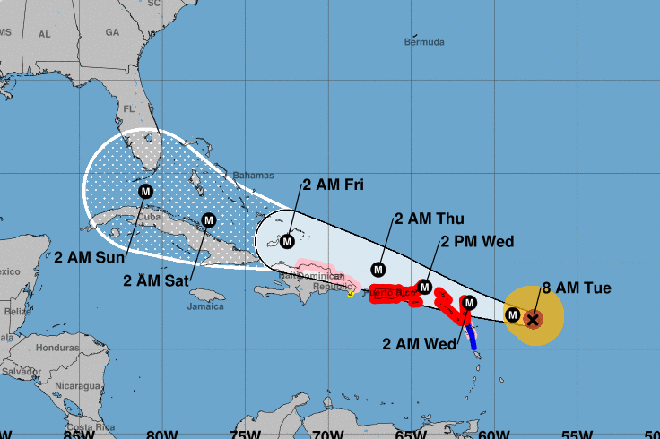 Published
Tuesday, September 5, 2017
Hurricane Irma continued to strengthen overnight and has now reached Category 5 on the Saffir-Simpson scale with sustained winds at 175 miles per hour. While the storm's strength will fluctuate, it is expected to remain a Category 4 or 5 storm for several days.
The storm formed over the Atlantic Ocean last week, and rapidly became a major hurricane - those storms reaching Category 3 and above - as it tracks west.
On the current forecast path, which is subject to substantial changes over the coming days, Irma passes just to the north of Puerto Rico Wednesday afternoon. The U.S. island territory is under a hurricane warning. Such warnings are typically issued 36 hours before the anticipated first occurrence of tropical storm-force winds - which would make activities outside to prepare for a storm difficult.
Up to 12 inches of rain could fall on Puerto Rico, which can produce deadly flooding and mud slides.
Puerto Rico's Governor Ricardo Rossello, has declared a state of emergency, and said he is coordinating preparations with the Federal Emergency Management Agency (FEMA) and U.S. President Donald Trump.
As currently projected, Irma is expected to pass north of the Dominican Republic, Haiti, and Cuba. By Sunday, the storm path shows Irma remaining a major hurricane and passing between Florida and Cuba on a path that would take the hurricane into the Gulf of Mexico. Equally likely is the potential for Irma to cross Cuba or make a direct impact on Florida as the storm's potential path is refined.
Irma is currently moving west at 14 mph.
Florida Governor Rick Scott has declared a state of emergency for every Florida county in hopes that local, state and federal government agencies will work together preparing for the possible impacts of the hurricane.
"I urge all Floridians to remain vigilant and stay alert to local weather and news," stated Scott.
Monday, he was urging citizens to spend time buying hurricane supplies and making sure their disaster kits were ready.
Less than two weeks ago, a major hurricane, Harvey, struck southern Texas as a Category 4 storm. The Galveston and Houston areas received as much as 50 inches of rain as the system stalled over the area, causing major flooding and prompting a national call for rescue and recovery assistance.
U.S. President Donald Trump made a disaster declaration for the state, and has visited Texas twice over the past week to view emergency response efforts.