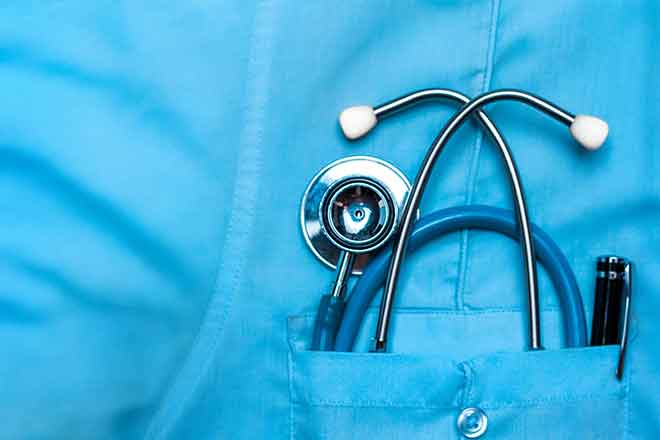 Published
Wednesday, May 12, 2021
Lamar Community College (LCC) nursing graduates were honored May 7 during a Nurse Pinning Ceremony, the culminating event that celebrates the students' completion of their studies and ability to begin working professionally.
Twenty-three students from the class of 2021 were pinned during the ceremony, held at the LCC Wellness Center, including eight from the Level I (Practical Nursing) and 15 from the Level II (Associate Degree in Nursing/Registered Nurse) programs. Class of 2020 graduates were also honored during the event, allowing them to hold an in-person ceremony after the pandemic barred them from the ability to hold the traditional rite of passage. Twenty-nine students from the class of 2020 were pinned, including 15 from the Level I Practical Nursing and 14 from Level II Associate Degree in Nursing/Registered Nurse programs.
This year's ceremony began with a special performance by dance troupe Spirit Dance who performed "Hands of a Hero", a dance to commemorate healthcare professionals who have worked during the pandemic.
LCC Nursing graduate Sarah Walsh was selected by her classmates to speak at the event. She discussed the highs and lows of being a nursing student which included successes in clinicals and the sacrifice of time away from family, prompting some laughs as well as happy tears from her classmates.
Graduating students were allowed to share prepared remarks which were read during their pinning by the Career and Technical Education and Nursing Instructional Coordinator, Shealynn McCracken.
The ceremony closed with the lighting of the Florence Nightingale Lamp, a symbolic gesture that represented the transfer of knowledge from nursing faculty to nursing students. The students then joined their family and friends in the audience and invited all nurses in attendance to join them in reciting the Nurses' Pledge.
To view a recording of the ceremony, visit https://youtu.be/hZHRXUvnIDM