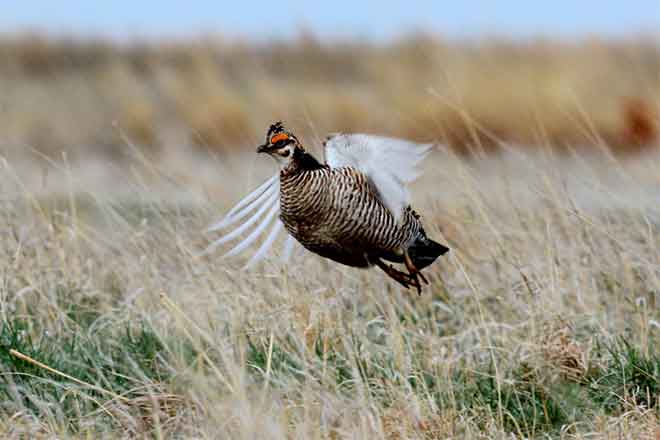 Published
Thursday, March 31, 2022
Beginning in mid-April, helicopter crews will move across southeastern Colorado to conduct aerial surveys for lesser prairie-chicken.
The surveys are conducted annually by the Western Association of Fish and Wildlife Agencies (WAFWA) to document population trends and how the bird is responding to management strategies.
Low-flying helicopters allow crews to find and survey leks, or mating grounds, where male chickens fight, dance and conduct mating rituals to attract females.
It'll be some early mornings for surveyors, as the flights are only conducted during the first couple hours after sunrise.
Crews will be flying in Baca, Prowers, Kiowa, and Cheyenne counties.
The data from those flights will be used to estimate prairie-chicken populations in Colorado, Kansas, New Mexico, Texas, and Oklahoma.
Results from this year's surveys will be available July 1.
The WAFWA Lesser Prairie-Chicken Range-wide Conservation Plan can be found at
https://wafwa.org/aerial-surveys-to-document-lesser-prairie-chicken-population-trends/.