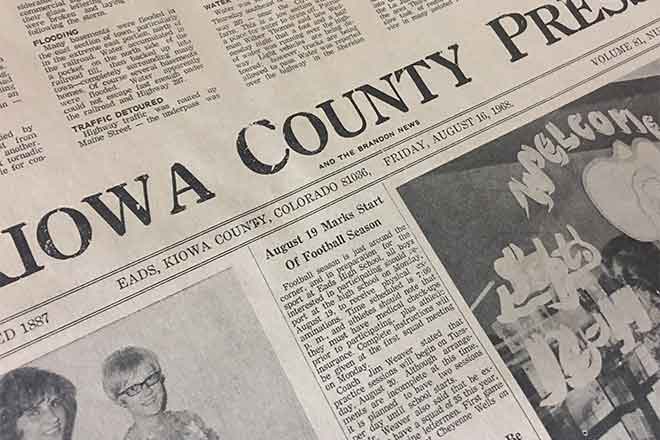 Published
Sunday, August 29, 2021
15 Year Ago
September 1, 2006
Sonny Burgess will be performing in concert at the Kiowa County Fair.
Six Counties, Crowley, Otero, Bent, Kiowa, Prowers and Bent, will benefit from a Southeast Colorado Heritage Tourism Marketing Campaign.
25 Years Ago
August 30, 1996
Kiowa County is one of 10 counties in Colorado which have received a federal disaster designation.
A bacteria caused by animal and human waste has surfaced in some of the La Junta city water supply
40 Years Ago
August 28, 1981
Leonard Fischer, owner of Fischer's Service was honored for more than 30 years of association with Diamond Shamrock.
J.W. "Billy" Dawson, of Brandon, recently had a 12-collector solar system installed on his home.
The 2nd Annual Tri-State Golf Tournament was held in Eads and attracted more than 80 golfers from though-out the area.
50 Years Ago
September 3, 1971
Lost: Prescription glasses with plastic and wire frames, between athletic field and Eads Trash Dump.
Friends and neighbors dropped in the Herb Crow to listen to old-time music played by Kenneth Dove, Cecil Blekeberg, George Engel, and Joan Crow. They are getting ready for Kit Carson Days.