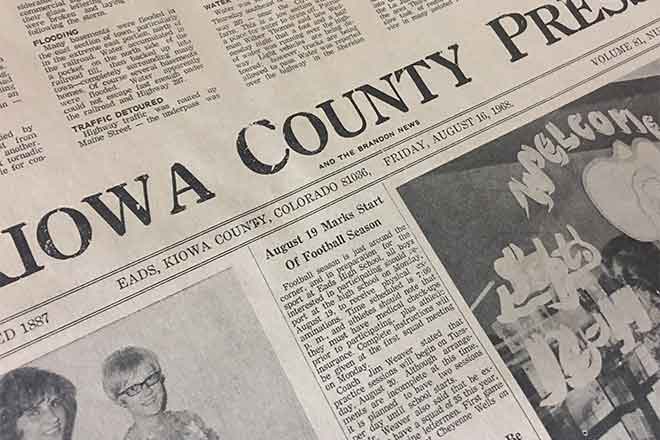 Published
Sunday, September 19, 2021
15 Year Ago
September 22, 2006
V&S Railway is pleased to announce the return of rail services from Towner to North Avondale Junction in Colorado.
Eads Chamber to sponsor candidate forum.
25 Years Ago
September 20, 1996
Resurfacing highway 287 project includes an 18 mile stretch north and south of Campo, and a nine mile stretch from the Kiowa/Cheyenne Co. line to Eads.
More sludge from New York City may be on its way to Prowers County. A company had been shipping free sludge but stopped last year when it found paying buyers.
40 Years Ago
September 18, 1981
The cost of heating your home will be going up this winter. Electric utilities expect overall average of 8.5%, natural gas 16.5% per cubic foot and propane overall average of 14.7%.
According to Kiowa County Sheriff Floyd Griswould, the Eads Volunteer Fire Department was to called the Kiowa County Fairgrounds to extinguish a snow fence that had accidently been set afire.
50 Years Ago
September 24, 1971
An agreement was reached this past week whereby the Kiowa County Press has been sold to Betz Publishing Co. Inc., publishers of the Lamar Tri-State Daily News.