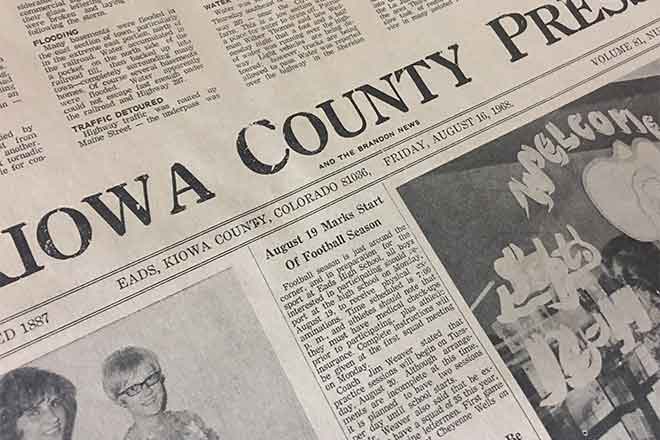 Published
Sunday, November 27, 2022
15 Years Ago
November 23, 2007
The Eads High School Eagles Football team are the 6-Man Champions of 2007. This is the Eagles second football title and the first in 6-Man.
The Eads High School Knowledge Bowl team brought home the Traveling Trophy from the Lamar Community College meet for the first time since the trophy was initiated in 1982.
25 Years Ago
November 21, 1997
Remodeling work is underway to transform the former Stokes Video store at 13th and Maine Streets in Eads into a dentist's office. The Kiowa County Commissioners have rented the building from George Crow and are actively attempting to recruit a dentist to serve the community.
40 Years Ago
November 19, 1982
Don Briggs of Haswell was quite surprised and, needless to say, a little nervous when he discovered a 500 pound bomb in some bomb canisters he had purchased to use as cattle feed bunks.
From the Sheriff's Desk- Floyd Griswould: we had quite a time trying to find the owner of a heard of calves that were roaming the streets of Eads one night last week.
50 Years Ago
November 23, 1972
Commissioners from Kiowa and Cheyenne counties have decided to start work on the television relay system for the two counties.
75 Years Ago
November 21, 1947
Dan W. Tucker and V.G. Mulholland, new people in the community, will open the Eads Cleaners for business next Monday.
100 Years Ago
November 24, 1922
Cecil Whitney, income tax man, has been here looking over the available records at the County Courthouse preparatory to assessing those who have the honor or pleasure of income tax payments to make.