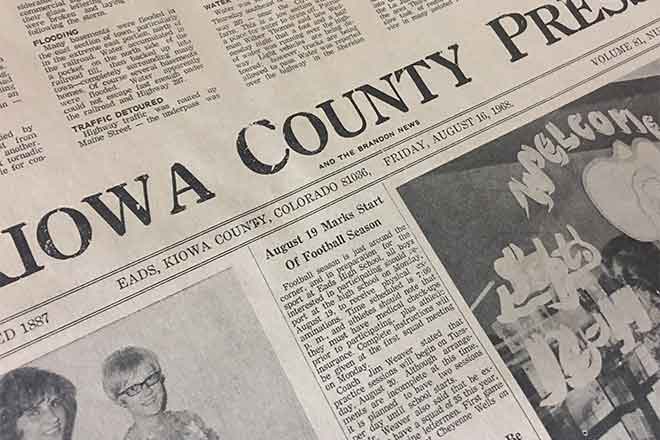 Published
Sunday, October 23, 2022
15 Years Ago
October 19, 2007
USDA Update- Rod Johnson: Finding storage is a real problem this year as elevators are filing up faster than the grain can be shipped out.
The historic Plains Theatre marquee is available for the community to post personal messages or announcements on.
25 Years Ago
October 17, 1997
At their regular meeting, the Eads Board of Trustees voted to permit U-turns at several intersections along Maine Street.
Strong winds, and possible tornados caused considerable damages over the weekend.
The Eads Board of Trustees voted to increase sewer rates by $24 per year.
Kit Carson News- Ruby Lafferty: Since I have little news will say something about the storms. It was pretty bad, with a tornado, hail warning then the wind blew very hard.
40 Years Ago
October 15, 1982
Kiowa Drug announce plans to join the Health Mart voluntary cooperative for independent drug stores.
The Federal Land Bank announced all its new and existing variable interest agricultural loans will drop to 12.75% from 13%.
From the Sheriff's Desk- Floyd Griswould: Deputies responded to the First National Bank in Eads because alarm had been triggered.
50 Years Ago
October 20, 1972
Kiowa County retail sales increase by .7% for the second quarter of the year.
Public Notice: due to action of the City Council Hi-Way Liquor will be closed Oct 24, 25 & 26, 1972.
75 Years Ago
October 15, 1947
A meeting was held at the Chivington school house for the purpose of organizing a PTA.
The Eads Volunteer Fire Dept. experimented with the new recruits by turning in an alarm to see how response time was.