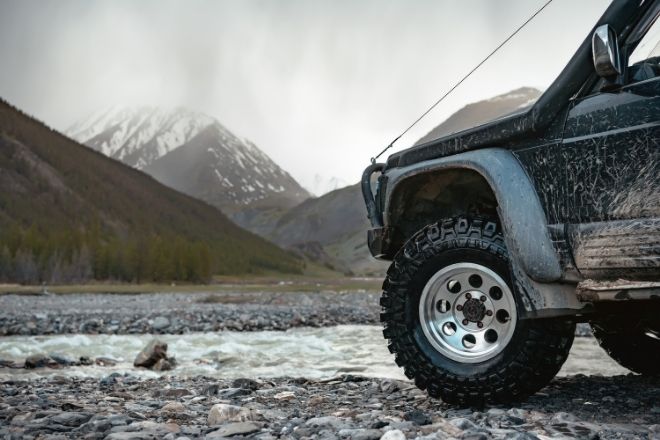 Published
Tuesday, November 24, 2020
Off-roading can be an extremely exciting way to experience nature. However, there are a handful of important safety risks to consider before off-roading. Being mindful of the hazards that come with the fun this outdoor activity can prevent unnecessary, yet serious, accidents from occurring. We've compiled a list of the more common risks that happen while off-roading so you can avoid making the same mistake.
A Flat Tire
A flat tire is inconvenient anywhere, but especially in the middle of deep woods or desert land. Luckily, there are preventative measures you can take to decrease the chances of getting a flat. Before your excursion, do a meticulous tire inspection to ensure the quality of your tires. Be careful on terrain where tires are more susceptible to damage.
Iffy Terrain
You must be aware of the environment's condition when off-roading. Failure to do so can leave your vehicle stuck in some tricky terrain. Pay close attention to the path when driving and avoid terrain that looks sketchy.
Crossing Water
The last thing you want while off-roading is to get stuck while crossing water. You must know how deep your vehicle can go and carefully inspect waters. Cross water on a case-by-case basis and never assume your vehicle is capable of anything it hasn't done before. There are different ways to cross paths with water - familiarize your vehicle with all of them. Solid technique and preparation are vital to successful water-crossing.
Getting Lost
It's all good and fun to explore new sights, but keep a high-quality navigation system in your vehicle to avoid getting lost. To get lost in the backwoods or desert is much more hazardous than the average road. Stay on well-lit and marked trails when possible, and keep an atlas and compass on hand as a backup to your GPS.
Being Unprepared
The best thing you can do for yourself and your passengers is to come prepared. Not having the proper equipment is one of the safety risks to consider before off-roading because it is in your control. Compile an assortment of off-roading essentials so you can tackle any literal and figurative bumps in the road. Bring the right items on your trip to promote the safety of all present adventurers.
Though off-roading has its risks, you can assure a successful trip with preparation. Once you've considered the hazards and equipped your vehicle with appropriate gear, you are ready to hit the trails!