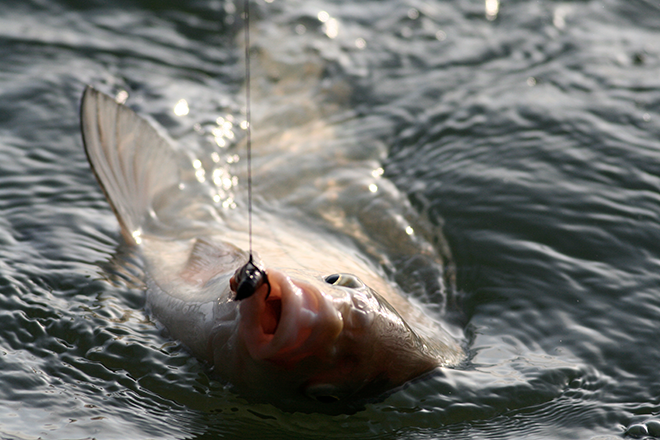 Published
Wednesday, August 3, 2016
Arkansas Headwaters
The Arkansas River has been flowing very stable for the last three weeks. There has been no significant rain to murk things up and the flows have remained in the 700 - 800 cfs range in Bighorn Sheep Canyon. The warm dry weather has generated warmer water temperatures, but thanks to the flow augmentation program the temperatures are still acceptable. Care should be taken at this time of year to adequately revive fish before releasing them. We have seen some fish mortality recently that has been caused by poor fish handling. The cooler and potentially wetter weather moving in for the next couple of weeks should help improve conditions. The fishing has remained excellent regardless with a resurgence in golden stonefly activity as well as hatches of pale morning duns, red quills, caddis, tricos, and yellow sallies. The grasshopper hatch this year has been extraordinary! Arkansas Headwaters Recreation Area
Clear Creek Reservoir
Trout angling at Clear Creek Reservoir from a boat has improved since last week, but fishing still remains slow from shore. Since the water level of the reservoir has dropped a few feet, shore fishing access has improved with the willows no longer being right at the shoreline. Fly anglers caught trout off the surface on elk hair caddis dry flies when the conditions were less windy. Woolly buggers usually produce well for fly anglers when the wind picks up. Trolling worms with flashers along the southern part of the lake was the most productive method to catch trout. Pistol Pete's worked well from a boat as well. Several boat anglers using bait had success with garlic scented PowerBait and worms off the bottom. Landing a kokanee salmon from a boat remains a difficult task. Most of the tiger muskie have been caught in the evening at the eastern part of the reservoir. The tiger muskie went for buck tail lures and Rapalas. The reservoir is closed to trailer motorized watercrafts on Tuesdays and Wednesdays. The current boating hours are from 6 a.m. to 8 p.m.
Lake Pueblo
The current surface temperature is 77 degrees. Fishing has been fair lately. Anglers are catching walleye in deeper water now that daytime temperatures have risen. Lindy rigs, grubs, and live bait are producing walleye bites. The bass fishing has slowed down, so anglers will have to work a little harder to find them. Soft plastics, spinner baits, and crank baits are still producing a few fish. Early and late in the day will produce better results now that the water has warmed up. Not many reports on trout fishing have come in recently. The catfish are being caught on the west end of the reservoir using chicken liver and worms. Wipers have been far and few between. Boaters are reminded that the boat ramps are open and summer hours from 5 a.m. to 11 p.m. are in effect. Lake Pueblo State Park
North Gateway Park
The warm weather has caused fishing to be rated at poor to fair. Some bass are being caught as well as some crappie, bluegill, and a few walleye. Trout fishing is fairly slow right now.
Trinidad Lake
The current surface water temperature is around 70 degrees. We are seeing a few trout being caught on PowerBait from shore. Early mornings and later evenings continue to be the most productive times to fish. Boaters are still catching trout, walleye, and perch using jigs tipped with a night crawler or artificial minnow. Some boaters are catching fish trolling worm harnesses. Trinidad Lake State Park
Valco Ponds
Fishing for bass has been fair to good. Soft plastics are the best lures right now. Fishing is only allowed on ponds #1, #2, #3, and a small portion of pond #4. A park pass is required for any vehicle that is parked in the Valco parking lot.