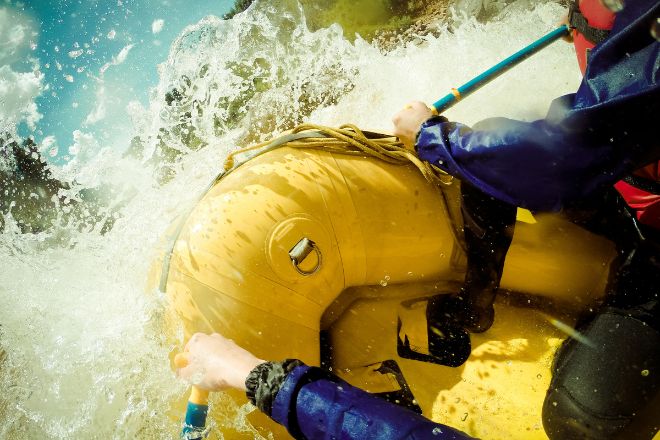 Published
Friday, September 2, 2022
Colorado is a beautiful state, especially Kiowa County. Nature is all around, with many opportunities to experience it. Check out these unique outdoor activities to do in Colorado for some inspiration to get outside and make some memories.
White water rafting
White water rafting is a great adrenaline-boosting activity. Colorado is home to many rivers for this opportunity. White water rafting is the action of traveling down a rapid river in an inflatable raft, and there are typically four to eight people inside. If you're new to white water rafting, or nervous about tipping over, many rental shops offer experienced guides to take you on your journey.
Mountaineering
Colorado is home to many mountains. After all, the Rockies--the largest mountain range in North America--go right through the state. Whether you're planning to climb Mount Elbert, Mount Evans, Mount of the Holy Cross, Pikes Peak, or Capitol Peak, there are plenty of options to choose from. Of course, any mountaineering adventure requires safety precautions. Always hike with a friend, bring lots of snacks and water, and avoid dangerous paths. Also, start slow and take it easy. Mountain climbing is no easy feat. You're not in a race, and a grave mistake can lead to serious consequences.
Off-roading
If staying inside a vehicle is more interesting, go off-roading! Whether you're renting an off-road vehicle or using your own, Colorado is home to many off-road trails to take you into nature. Off-roading is different than driving on a paved road. Basic off-roading involves driving over natural terrains, such as sand, gravel, mud, or snow. Of course, you can take it one step further and attempt more challenging off-road travel. For example, fording is the act of driving through a semi-shallow river. Rock crawling requires a tough suspension and undercarriage to travel up steep, uneven inclines. Whichever you prefer, keep a first-aid kit in the cab of the vehicle, as well as towing hooks, a cell phone, and general supplies in case you get stuck.
Horseback riding
Another unique outdoor activity to do in Colorado is horseback riding. Horses are majestic creatures, so use this opportunity to ride one yourself. With ranches and stables across the state, there are limitless options available for a trail ride. You don't need to be an expert horse rider, either! Many trail ride experiences are open to all skill levels, ranging from an hour to an overnight trip. You can also hire a guide to help you explore.