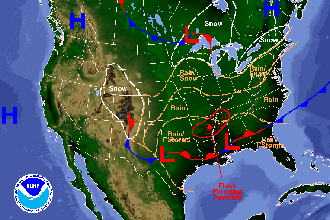 Published
Sunday, February 21, 2016
Look for mostly sunny conditions and highs in the 50s through Friday, with winds around 10 miles per hour.
The major exception will be Monday night into Tuesday, when a rain-snow mix is possible from a system that will enter the area. Temperatures will struggle to get to the mid-40s, with 20-25 mph winds out of the northeast becoming north. Less than a tenth of an inch of precipitation is expected Monday night, and less than an inch of snow Tuesday.
For those planning a trip into the mountains Tuesday, check road conditions before you leave. Six to 12 inches of snow are expected in the high country, and the drive along I-25 south of Pueblo may be a bit messy.
The rest of the week will be dry with the cooler, but still unseasonably warm temperatures.