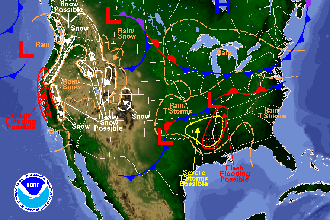 Published
Sunday, March 13, 2016
Fire danger elevated Monday.
UPDATE: Tuesday will see another Red Flag Warning from 11:00 a.m. to 7:00 p.m.
While early Sunday morning started off with fog and 88 percent humidity in central Kiowa County, conditions will change Monday.
A Fire Weather Watch has been issued for southeast Colorado for Monday. Expect west winds 15 to 25 miles per hour, with gusts up to 35. Relative humidity will be around 12 percent, and a high temperature in the low 70s. Expect the watch to become a Red Flag Warning. (UPDATE: As expected, the Fire Weather Watch has been updated to a Red Flag Warning.)
The remainder of the week will be cooler, with highs in the 50s through Thursday and dropping further Friday and Saturday, with temperatures in the mid-40s.
Overnight temperatures will be mostly in the low 20s, and winds of 10-20 miles per hour will also be a feature for the week.
Forecast models are not yet in good agreement, however there is some indication that rain or snow could return to southeast Colorado by the weekend.