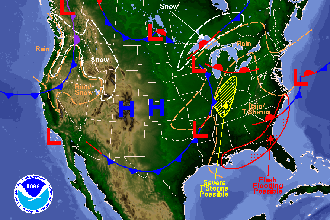 Published
Sunday, March 27, 2016
Starting the week with fire weather alerts has been the rule for March, and this week appears to be no different despite our hopes in Friday's report.
Monday's fire weather potential will be more localized, and mainly be a possibility in the eastern portion of the forecast area, which could include Kiowa County. Tuesday's potential is more wide-spread, over a longer period of the day. The National Weather Service is monitoring closely and will be issuing fire weather highlights as needed over the coming days.
High temperatures in the mid-70s will lead off the week before dropping back to the mid-50s Wednesday through Friday as a new system moves into the area. Its too early to be certain, however a chance of precipitation may be in store for Tuesday night through Wednesday.
Low temperatures during the week are expected to be in the mid-20s to low 30s.
Winds in the 5-15 mile per hour range will be the norm for the week, however Tuesday afternoon and Wednesday will be stronger, with 20-25 mph winds.
Check back later this week as we track the fire and precipitation potentials.