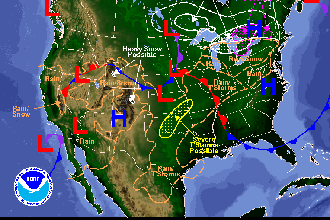 Published
Sunday, April 10, 2016
Another warm, sunny day is in store for Sunday in Kiowa County, with a high in the mid-70s before dropping to the upper 30s overnight. Wind will increase overnight, potentially gusting to 30 miles per hour.
Showers and thunderstorms are possible overnight into mid-morning Monday. Up to a quarter-inch of precipitation is possible, potentially more in thunderstorm areas.
Monday will be noticeably cooler as a cold front backs into the area, with a high in the mid-50s, dropping to the low 30s overnight. Winds will decrease to around 10 mph.
A new warmup starts Tuesday as the high temperature recovers to the upper 60s. Look for mid-70s to low 80s later in the week, and overnight temperatures in the upper 30s and low 40s.
For late Friday into Saturday, a great deal of uncertainty remains. A storm system is expected to move into the area, however the track of the system is still in question. There is the potential for either significant rain, or just strong winds.
While the week will not start with elevated fire danger as it has for more than a month, the uncertainty of the late-week system does bring the potential for weekend fire weather if potential rain bypasses the area.
We will post an update later in the week as better information about the late-week system becomes available.