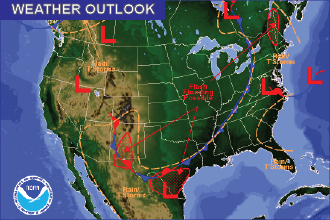 Published
Sunday, August 21, 2016
By Chris Sorensen
After a couple of cooler days, southeast Colorado will warm up for the early part of the week before another cold front enters the area.
The high temperature Sunday will be in the upper 80s, with little potential for rain.
Low 90s are expected Monday and Tuesday before a cold front entering the area drops temperatures into the 70s for mid-week. Friday and Saturday's highs will rebound slightly to the low 80s.
Overnight lows are expected to be mainly in the 50s, with Wednesday night dropping to around 50 for the coolest night of the week.
Wednesday will also see a windy period, with gusts as high as 30 miles per hour, and well as the greatest chance for afternoon thunderstorms for the week. Lesser chances for rain and thunderstorms will be present throughout the remainder of the week.
Higher mountain elevations could see additional periods of snow.