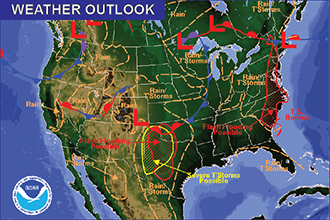 Published
Sunday, May 29, 2016
By Chris Sorensen
May 29, 2016
Showers and thunderstorms will be a possibility daily through at least Wednesday, with the best chances occurring Monday night. A slightly lower risk continues Tuesday into the evening and dropping further for Wednesday.
Isolated thunderstorms are a potential after 11:00 a.m. Sunday. Overall rainfall is expected to be less than one-tenth inch, however watch for higher amounts in areas impacted by thunderstorms. Storms could be strong in Kiowa County, and reach severe levels further south, particularly in Baca County. Outflow winds from storms could reach 60 miles per hour.
High temperatures will be in the low 80s Sunday and Monday, with overnight lows in the 50s. Highs will continue in the 70s for the middle of the week before warming to the mid-80s Friday and Saturday as a ridge of high pressure builds over the western US and northern Rocky Mountains. Temperatures may even reach 90 across the lower Arkansas River Valley.