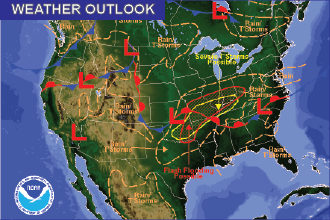 Published
Sunday, July 3, 2016
By Chris Sorensen
A slight chance of thunderstorms remains early in the week as temperatures return to summer norms for southeast Colorado.
After a high in the mid-80s Sunday, temperatures will return to the mid-90s through Thursday, then cool to the low 90s going into next weekend. Overnight lows will be in the upper 50s to lo 60s.
After several days of rain and thunderstorms across the area, only a slight chance of thunderstorms remains Sunday afternoon into the evening, and returns again Monday evening. The remainder of the week is currently expected to remain dry.
Wednesday could be a critical fire weather day; however recent rains may be a limiting factor. Watch for updates later in the week, and be prepared to curtail outdoor activities that would spark a fire.