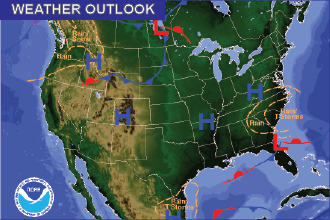 Published
Sunday, November 13, 2016
By Chris Sorensen
Warmer temperatures will continue through the middle of the week, and the forecast hints at some potential for rain or snow later in the week.
Sunday will be breezy, with north winds gradually increasing to 15 to 25 miles per hour in the morning. The high temperature will be around 70, with an overnight low of 30 expected.
Look for unseasonably warm high temperatures in the low to mid-70s continuing through Wednesday, with overnight lows remaining just above freezing.
Temperatures begin to cool Thursday when the high reaches the low 60s, followed by upper 40s Friday.
Winds return Thursday in the 15 to 25 MPH range, increasing to 25 to 30 MPH overnight as a low pressure trough moves across the area. A 10 percent chance of showers is expected after 11:00 a.m., increasing to 30 percent during the evening hours. Rain could change to snow after 10:00 p.m. as temperatures fall to the mid-20s, however minimal accumulation is currently expected.