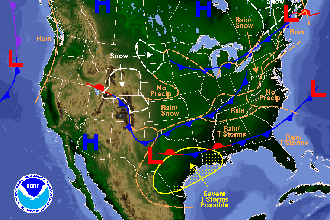 Published
Friday, March 18, 2016
By Chris Sorensen
Much needed moisture - though in very limited amounts and coverage area - returns to Kiowa County Thursday night and Friday.
A small amount of snow fell Thursday night (March 17, 2016) - generally one-half inch or less, and missing many areas. While snow remains likely throughout Friday, less than one inch of accumulation is expected.
Friday will also be the coldest day of the week, with temperatures only reaching into the mid-30s before falling into the upper teens overnight. Winds in the 10-15 miles per hour range offer a reprieve from much stronger wind earlier in the week.
A warming trend starts Saturday with temperatures in the 40s Saturday and 50s Sunday before hitting the mid-70s Monday and Tuesday.
The week will again start with potential for high fire danger. Winds are not expected to be as strong initially, but will increase Tuesday and may result in fire alerts.
The area cools again starting Wednesday, and models are giving some indication that precipitation could return later in the week. Watch for updates in our outlook update Sunday.