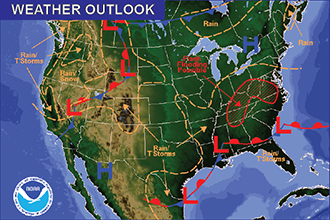 Published
Friday, May 20, 2016
By Chris Sorensen
May 20, 2016
Summer-like conditions are firmly in place for the weekend.
After some patchy fog to start Friday morning, temperatures will rise to the upper 70s and afternoon winds will be out of the southeast at 15-20 miles per hour.
Saturday and Sunday will see daytime highs in the mid- to upper 80s and continued southerly winds in the 15 to 25 mph range. Gust overnight Saturday could be as high as 30 mph.
Lows into next week will be in the mid-40s to low 50s.
Looking ahead, watch for daytime temperatures in the upper 70s to low 80s through at least Thursday and 5 to 15 mph wind.
There is a very slight chance of precipitation Tuesday and Wednesday mornings, however moisture will quickly mix with dry air, leaving any significant rain unlikely.