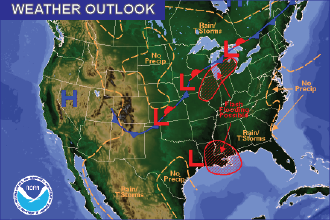 Published
Friday, August 12, 2016
By Chris Sorensen
Mid-80s and thunderstorm potential kick off the weekend for Kiowa County.
Scattered thunderstorms are possible Friday afternoon, with a slightly increased chance of storms continuing overnight. A slight chance of precipitation remains in store for Saturday before Sunday kicks off a week of sunny weather and little chance of rain.
Weekend high temperatures will be in the mid-80s, with overnight lows near 60.
Looking to the week ahead, daytime temperatures will be around 90 at least through Thursday. Winds will mainly be out of the south in the 5-15 mile-per-hour range.