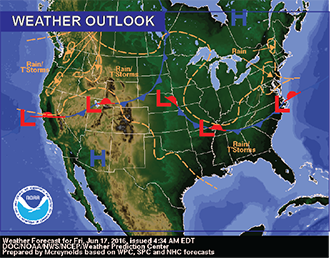 Published
Friday, June 17, 2016
By Chris Sorensen
Above normal temperatures will continue through the weekend, and rain is not expected.
Friday will be sunny, with a high in the mid-90s. Conditions will be similar Saturday after the morning starts off mostly cloudy.
The high for Sunday will approach 100. South winds will be in the 10-20 mile per hour range, with gusts to 30 mph throughout the day and continuing into the evening.
Overnight lows will be in the upper 50s to low 60s.
Looking to the week ahead, a similar forecast repeats at least through Thursday with a few variations. A very slight chance of thunderstorms exists Monday evening for the official start of summer, and Tuesday will be slightly cooler, with a high in the low 90s.
Although Kiowa County moved out of drought conditions weeks ago, the current forecast suggests the potential for a return of at least abnormally dry conditions - the lowest category on the drought scale