Image
Winter weather returns to southeast Colorado – up to a foot of snow by Saturday evening
Following a mid-week storm, another round of snow is headed to southeast Colorado Friday afternoon, and is expected to bring up to one foot of additional snow to the region.
The National Weather Service has issued a winter storm warning for much of the southeast portion of the state. The warning came into effect at 2:00 p.m. Friday, and will continue as late as 5:00 p.m. Saturday. Snow has already begun falling over the southern mountains and San Luis Valley as the storm begins to spread to the eastern plains.
Image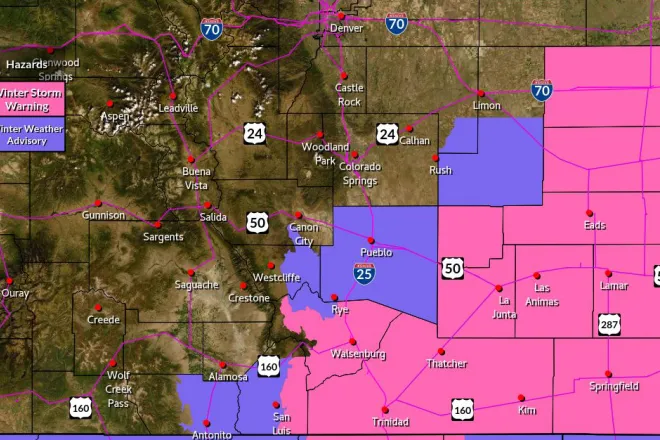 While Wednesday's snow accumulation was relatively light for much of southeast Colorado, the incoming storm may drop as much as a foot of new snow across the area from Las Animas County to southern Kit Carson County. Amounts have been trending upward in recent forecast model runs.
Winds are also expected to accompany the storm, with gusts up to 40 miles per hour during the system's overnight peak. Blowing snow will create hazardous driving conditions, and travel is discouraged.
Image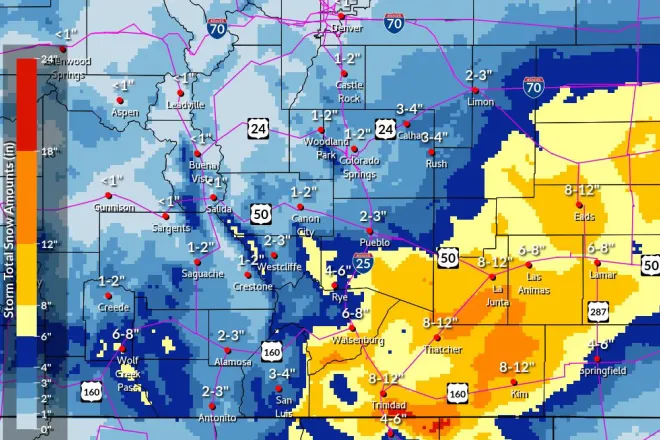 The NWS expects major impacts for the plains beginning around 5:00 p.m. Friday, continuing until 11:00 p.m. when the storm is predicted to intensify. Extreme conditions are then predicted to continue until 5:00 a.m. Saturday, and may include snowfall rates up to two inches per hour at times. Wind speeds will increase after midnight. Major impacts are expected to continue until 11:00 a.m. Saturday before the storm begins to moderate.
Another storm is on track to impact eastern Colorado Sunday evening into Tuesday. An additional 4-6 inches of snow is possible with that system, however snowfall amounts are subject to change. Check back for updates.