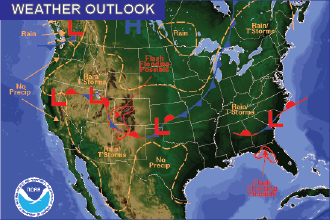 Published
Friday, August 5, 2016
By Chris Sorensen
Cooler than average temperatures, accompanied by continued flow of monsoon moisture into the area and across the southwest U.S. will mark the weekend.
For those planning trips to the southern mountains, be aware of flash flood watches in many areas. Some parts of the mountains have already received up to one inch of rain over the past day, creating saturated soils. An additional one to two inches is expected through Saturday.
For southeast Colorado and Kiowa County, heavier precipitation is not expected to develop until later in the day Friday and continuing into the evening. Strong storms are possible, mainly south of Highway 50. Active weather is expected to continue throughout the weekend, including heavy rain, lightning and even small hail.
Friday's high temperature will be in the upper 70s, rising slightly to the low 80s for Saturday and Sunday. Lows will be in the upper 50s to low 60s.
Thunderstorms are likely Friday night, and chances of afternoon and evening thunderstorms will continue through Tuesday evening, with the possibilities decreasing after Saturday evening.
Temperatures return to the low to mid-90s Monday, extending at least until Thursday.