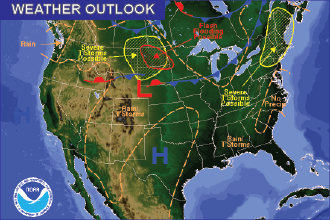 Published
Saturday, July 23, 2016
By Chris Sorensen
After a week of heat, southeast Colorado will start to see a slight cooling trend toward the end of the weekend, along with an increasing chance of showers and thunderstorms.
Friday and Saturday daytime temperatures will remain near 100 before dropping off to the lower 90s Sunday and into the coming week. Evening temperatures will be in the low to mid-60s.
Afternoon and evening thunderstorms are possible through Tuesday night, with the greatest likelihood occurring Sunday night. Look for slightly lower chances Friday, Saturday and Tuesday as seasonal monsoon moisture continues to stream into Colorado.
Storms Friday could produce locally-heavy rain, 50 mile-per-hour outflow gusts and small hail.