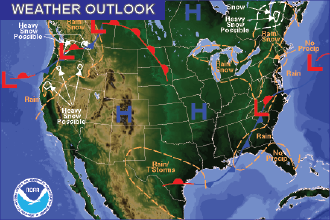 Published
Friday, November 25, 2016
By Chris Sorensen
With ongoing drought conditions, any hint of precipitation is welcomed - and Sunday's slight chance of snow is the best the forecast has to offer for several days.
Friday starts off with a high in the mid-50s under sunny skies, and an overnight low near 20.
Sun returns Saturday as temperatures approach 60 and the overnight low drops to around freezing.
Sunday morning presents the best chance - though only 10 percent - for rain and snow in Kiowa County. The system moving in from the west is likely to produce substantially more snow over the Continental Divide, with the southern mountains currently expecting five to 12 inches of snow. Driving over the mountain passes could be dangerous.
Locally, rain and snow are possible before 9:00 a.m., followed by a chance of rain until 11:00 a.m. The day will start with mostly cloudy skies, gradually becoming sunny. The afternoon high will be near 60, dropping to the mid-20s at night. Wind will be out of the southwest in the 15 to 25 mile-per-hour range.
For the week ahead, daytime highs will be in the 40s, with Monday being the warmest day of the work week. There are some indications light snow may return Tuesday and Thursday - check back Sunday for an update on the snow potential.