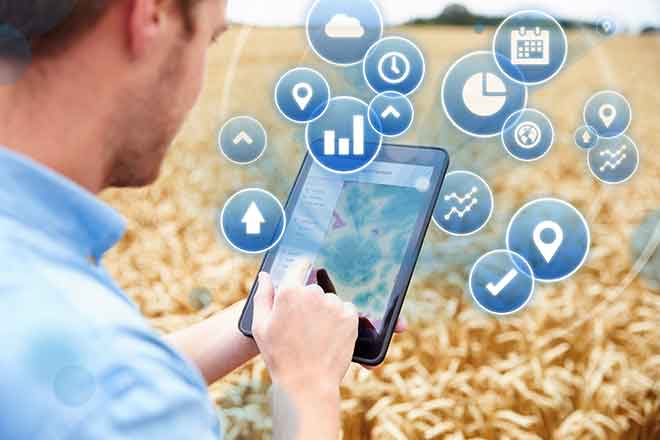 Published
Wednesday, August 31, 2022
Precipitation varied across Wyoming for the week ending August 28, 2022, according to the Mountain Regional Field Office of the National Agricultural Statistics Service, USDA.
Precipitation levels were mostly below normal in southern portions of the State. Scattered areas of the south received up to 0.4 inches of rain, but in many areas, amounts were zero to trace. Northern areas fared somewhat better, with minor portions of the northwest receiving approximately an inch of rain.
Temperatures once again ran above average. All of Wyoming saw temperatures ranging from 1 to 5 degrees above normal, with mostly the north and west seeing the warmer conditions.
Changes in drought conditions were minimal. According to the US Drought Monitor for August 25, 2022, the amount of land that was drought free remained unchanged at 9.9 percent. Portions of the State experiencing abnormal dryness fell by 0.7 percentage points to 34.6 percent. The amount of land experiencing moderate drought increased to 34.3 percent, up 0.7 percentage points from 33.6 percent the previous week. Both severe and extreme drought conditions remained unchanged at 19.6 and 1.6 percent, respectively.
In Goshen County, the hot weather continued. Scattered rains benefitted northern sections of the county. Central and southern portions of the county remained adversely dry.
Autumn was fast approaching in Lincoln County. Mornings were getting cold with the likelihood of a freeze in the near future. Conditions were still dry, with a strong need for moisture.
Platte County was also in dire need of moisture. No precipitation was received last week. Pastures and dryland crops suffered under the warm and dry conditions. Even pastures with new growth showed signs of stress.
Irrigation water supplies across the State were rated 14 percent very poor, 29 percent poor, 16 percent fair, and 41 percent good, compared to 12 percent very poor, 34 percent poor, 21 percent fair, and 33 percent good last week.
Stock water supplies across Wyoming were rated 7 percent very short, 48 percent short, and 45 percent adequate, compared to 5 percent very short, 42 percent short, and 53 percent adequate last week.
CROP AND LIVESTOCK PROGRESS

Commodity

Current week

Previous week

Previous year

5-year average

(percent)

(percent)

(percent)

(percent)

Alfalfa hay

2nd cutting harvested

60

55

93

NA

3rd cutting harvested

18

--

23

16

Barley

Mature

95

83

NA

NA

Harvested

80

77

79

77

Corn

Doughed

81

55

77

74

Dented

7

NA

20

14

Dry edible beans

Setting pods

93

89

NA

NA

Turning color

15

8

53

48

Winter wheat

Mature

96

93

NA

NA

Harvested

92

87

NA

NA

Planted

11

--

6

3

DAYS SUITABLE FOR FIELDWORK AND SOIL MOISTURE CONDITION

Current week

Previous week

Previous year

5-year average

Days suitable for fieldwork

6.5

6.6

6.9

6.9

Topsoil moisture

(percent)

(percent)

(percent)

(percent)

Very short

36

45

25

26

Short

45

36

42

37

Adequate

19

19

32

37

Surplus

--

--

1

--

Subsoil moisture

Very short

39

48

29

28

Short

48

39

38

35

Adequate

13

13

32

37

Surplus

--

--

1

--

CROP, LIVESTOCK, PASTURE AND RANGE CONDITION

Commodity

Current week

Previous week

Previous year

5-year average

(percent)

(percent)

(percent)

(percent)

Alfalfa hay

Very poor

--

--

14

5

Poor

--

--

17

9

Fair

40

43

19

14

Good

59

57

45

65

Excellent

1

--

5

7

Corn

Very poor

--

--

--

--

Poor

--

--

--

4

Fair

15

24

7

15

Good

84

76

91

80

Excellent

1

--

2

1

Dry edible beans

Very poor

--

--

--

--

Poor

--

8

--

3

Fair

33

35

18

15

Good

66

57

79

80

Excellent

1

--

3

2

Pasture and range

Very poor

16

18

31

18

Poor

20

17

37

24

Fair

35

36

22

30

Good

28

29

9

25

Excellent

1

--

1

3

Sugarbeets

Very poor

--

--

--

--

Poor

--

--

--

4

Fair

9

18

18

13

Good

91

82

80

79

Excellent

--

--

2

4

Livestock

Very poor

--

--

1

--

Poor

--

--

7

3

Fair

13

17

39

21

Good

82

83

52

71

Excellent

5

--

1

5