Image
Bitter cold continues track toward Colorado
On the first day of winter, dangerous arctic air remains on track to impact Colorado starting Wednesday evening and continuing into Friday.
The National Weather Service is predicting life threatening wind chill in the range of -40 to -60 degrees as a strong cold front moves into the state Wednesday afternoon. Temperatures could drop as much as 30 degrees in an hour, while wind gusts may be as high as 55 miles per hour.
Image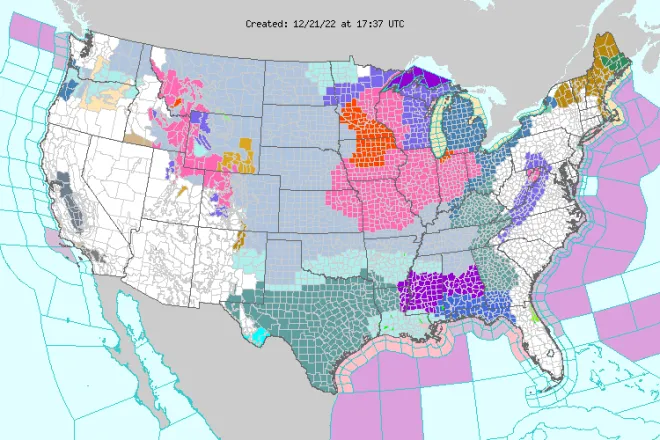 Midday temperatures across the eastern plains are predicted to reach the mid-40s to low 50s before beginning to drop as colder air moves in.
In northeast Colorado, wind chill is expected to be at least in the -50s at its lowest point for Holyoke, Wray, Burlington, and Limon over the coming days. For the southeast, Eads can expect wind chill below -40, while Lamar, Springfield, Las Animas, and La Junta are predicted to see wind chill values in the -30s.
Image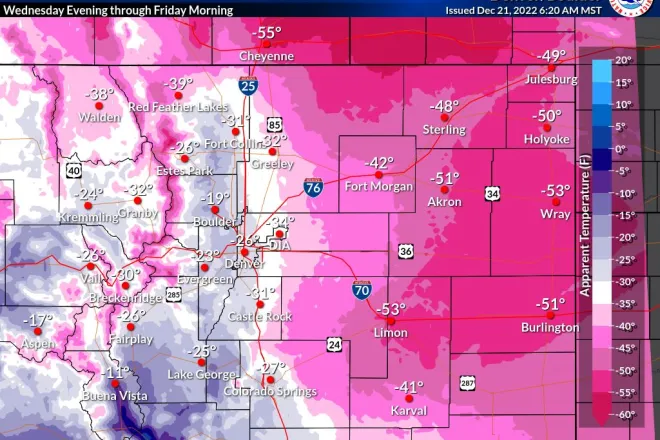 The northeast portion of the state will also be under a winter weather advisory starting as early  noon Wednesday for mountain areas, continuing as late as 9:00 a.m. Thursday. While only a few inches of snow is expected, strong wind gusts and blowing snow can make travel conditions difficult. Last week, roads and highways across much of the same area were close for up to 36 hours due to blizzard conditions in Colorado, Kansas and Nebraska.
Image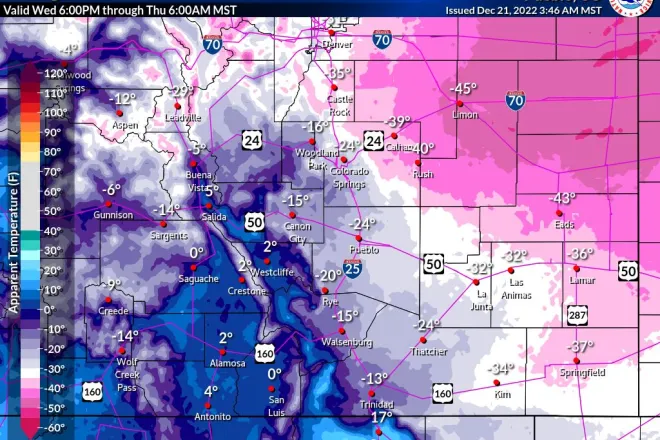 The extreme wind chill poses substantial risks to people and livestock. The NWS says outside activities should be avoided if possible. If you must go out, wear appropriate clothing, including gloves and a hat which covers the ears. Frostbite to exposed skin is possible within five minutes with the expected wind chill.
Atmos Energy is encouraging customers to take steps to conserve energy during the coming cold snap, and offers tips to reduce energy usage while still remaining comfortable.
Warmer temperatures are predicted to return relatively quickly, with highs returning to the upper 40s to mid-50s Christmas Day.