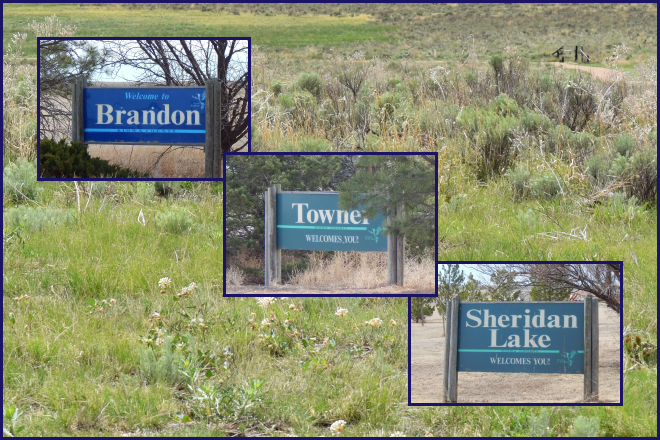 Published
Monday, September 3, 2018
I can't believe it is fair week already. Hope everyone can come and enjoy the activities. We have been busy picking and digging our garden produce and getting it ready to show at the fair. Kyle and I have been doing some baking and making candy and I have also been busy making pickles, jelly and relish to show. Fun! Fun!
Last Thursday, Susan Greenfield and Jeanie Smith went to Holly to watch their girls play volleyball. Friday, they went to La Junta shopping and then back to Manzanola to watch the Eads football and volleyball teams play.
Dick and I went to Pueblo Tuesday to see his knee doctor. They said he was almost a perfect specimen and his knees looked pretty good too! We had lunch with our niece Gloria (Scott) Jones and her husband Evan. We came home through La Junta and picked up our puppy. Her name is Roxie G and, I have to admit, she's pretty cute. Guess she's a keeper!
Evan and Jen Hopkins and children went to Howard, Colorado, over the Labor Day weekend.
Kelvin and Amy Schmidt and family went to Oklahoma over the weekend to visit family and friends.
Christy Hopkins spent Labor Day weekend in Tabernash.
Jim Specht and his daughter, Evelyn, from Bixby, Oklahoma, visited his parents, Leo and Kathy Specht, over the weekend and attended a cousin's wedding in Lamar. Sunday, Kyle and Joanna Schneider and Danny and Rachel Specht joined them for supper and visiting.
Cora Coffman and several members of her family spent the weekend in Colorado Springs visiting with her granddaughter, Jordan Coffman, who is at the Air Force Academy.
The Plainview Community Club would like to thank everyone who donated items for their Rummage Sale Saturday at Plainview. A fair-sized crowd took advantage of all the goodies they had for sale.
We had a nice 1/2" rain this afternoon. Sure cooled things down and made everything smell so fresh.
Please keep all the people from our area who are having health issues in your prayers.
Have a great week!