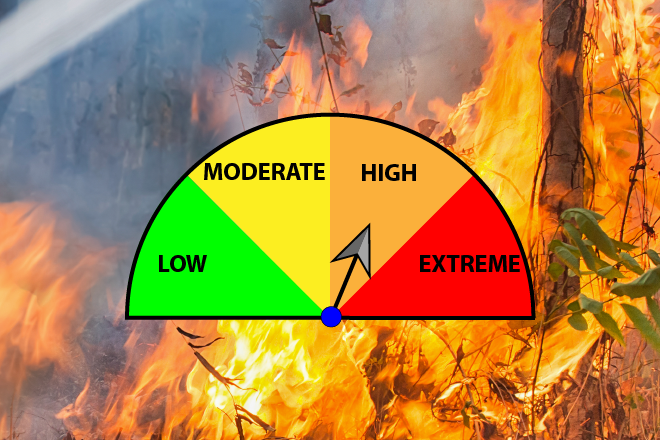 Published
Saturday, October 9, 2021
The National Weather Service has issued a red flag warning Saturday for parts of five states, including Colorado, due to high fire danger.
In Colorado, the warning will be in effect from noon until 8:00 p.m. Temperatures are expected to reach into the 70s and 80s while relative humidity could fall into the mid-teens. With west winds gusting up to 45 miles per hour across the southeast plains, conditions will favor the rapid spread and growth of any fires that do start.
Friday, a fire north of Colorado Springs in El Paso County prompted evacuations of homes north of Peyton. The evacuations were still in effect Saturday morning, and multiple local and state agencies continue efforts to control the fire.
Saturday's warning includes all or portions of Kit Carson, Cheyenne, Kiowa, Prowers, Baca, Las Animas, Bent, Otero, Crowley, Lincoln, Elbert, Douglas, Pueblo and Fremont counties in Colorado. Warnings are also in effect for parts of Kansas, Oklahoma, Texas, and New Mexico.
Further west in Colorado, and high wind warning will be in effect Saturday until 4:00 p.m. Wind gusts could reach as high as 80 mph in parts of Las Animas, Costilla, Huerfano, Saguache, Custer, Fremont, and Alamosa counties. The strong winds may topple trees and could cause driving difficulties for high-profile vehicles.
In the coming week, colder temperatures and snow may move into the area, though the track of the system is subject to change. Mountain areas could see the first notable snowfall of the season, with rain and some snow possible on the plains.
According to the NWS, a red flag warning means that critical fire weather conditions are either occurring now or will shortly. A combination of strong winds, low relative humidity, and warm temperatures can contribute to extreme fire behavior.