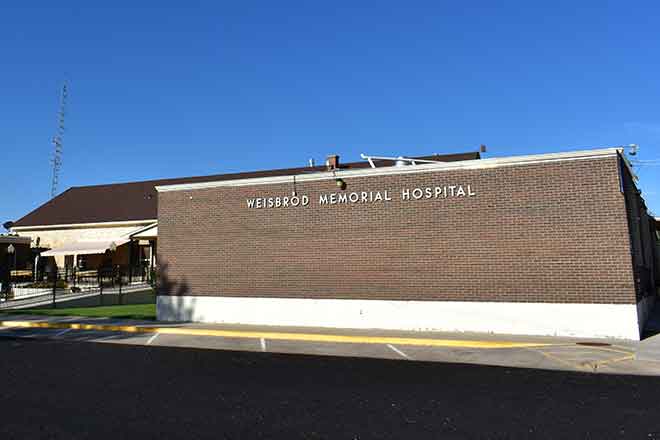 Published
Friday, February 19, 2021
RECORD OF PROCEEDINGS
BOARD MEETING
November 24, 2020
The Kiowa County Hospital District and County Board met in regular session on November 24, 2020 at 6:31 p.m. via Zoom.
District Board members present were: Mary Eikner, Sylvia Shields, and Meghan Buck. Absent: Cathryn Anderson (called).
County Board members present were: Ken Flory, Craig Kerfoot, Kevin Davis, Claire Prince and Dale Back.
Others present: Shannon Dixon, Char Korrell, Ellen Lane, Jessica Hyman, Renay Crain, and Beth
Spady.
CALL TO ORDER
The meeting was called to order by Sylvia Shields, Chairman of the Board at 6:31 pm.
COUNTY VOTING MEMBER SELECTION
Dale Back, Kevin Davis, and Craig Kerfoot.
APPROVAL OF MINUTES
A motion was made by Mary Eikner to approve the October 27, 2020 minutes as presented after a correction is made pertaining to the ambulance agreement motion. Motion seconded by Dale Back. All aye.
APPROVAL OF AGENDA
A motion was made by Craig Kerfoot to approve the agenda after the addition of board members under new business. Motion seconded by Mary Eikner. All aye.
PUBLIC COMMENT
No one was present for public comment.
CREDENTIALING
Dr. Eric Webster and Dr. Josh Hammond were approved for temporary privileges by Med Staff. A motion was made by Meghan Buck to approve all credentialing as presented above and seconded by Craig Kerfoot. All aye.
POLICIES & PROCEDURES
The Board reviewed and discussed the summary of policy and procedure revisions for the 340B program, Fiscal Services, Emergency Utilization, and COVID-19. All policies were reviewed by the Policy Committee and approved by Med Staff. A motion was made by Mary Eikner to approve all policies as discussed and seconded by Dale Back. All aye.
STANDING REPORTS
CEO
Staff continue to gather information for the 340B desk audit that is being performed by HRSA (Health Resources and Services Administration).
The application deadline for the Hospital Transformation Program (HIP) has been postponed until April of 2021.
CFO
The October financials were reviewed and showed a profit for both the month and year. In October, days cash on hand was 163 and days in AR was 88.
The Board reviewed a full-time equivalent report pertaining to staffing in each department.
Employee Christmas Bonuses were discussed by the Board. A motion was made by Meghan Buck to approve a slight increase in the bonus structure. Motion seconded by Craig Kerfoot. Dale Back, Ken Flory, and Sylvia Shields were recused from the vote. All aye.
Due to circumstances related to COVID-19, the Board Christmas Dinner and Employee Christmas Party will be cancelled this year.
We expect to adopt a supplemental budget for fiscal year 2020.
CNO
KCHD is working towards offering chemotherapy through our outpatient treatment room. Staff were to attend training in December of 2020. These trainings have been postponed.
KCHD is concerned about staffing.
HOSPITAL QUALITY & SAFETY
The Quality Report Scorecard was reviewed. Various measures including infection rate, medication errors, and falls were reviewed by the Board.
OLD BUSINESS
DEPARTMENT OF LOCAL AFFAIRS (DOLA) GRANT UPDATE
The electrical work is still in process. A toggle switch broke on the generator but the replacement part should arrive via overnight delivery. Contingency plans are in place.
KIOWA COUNTY ECONOMIC DEVELOPMENT FOUNDATION (KCEDF) LAND PARCEL
No new updates.
COVID-19 UPDATE
KCHD staff and local partners continue to meet via zoom weekly to receive updates and discuss any changes to our planning process and protocols. Cases in Kiowa County have increased to 25.
The Colorado Hospital Association (CHA) and the State have created a Combined Hospital Transfer Center (CHIC) program that will help with coordinating transfers throughout the state.
Staff at KCHD have identified medications, etc. that would be helpful in treating COVID and are working to ensure these medications and supplies are on hand.
Weekly COVID updates are being provided by Kiowa County Public Health. This update contains information regarding cases, hospitalizations, and deaths. Information on who or where someone is hospitalized is protected health information. Please note that this information is cumulative and includes all Kiowa County residents.
Kiowa County is currently in Level Orange. As representatives of Kiowa County Hospital District, staff and board members are encouraged to wear their mask.
CLINIC OFFICE SPACE
The new office trailer has arrived and is being utilized by staff.
2021 BUDGET
A final budget was presented to the Board for 2021. The budget hearing for the 2021 budget is scheduled for Tuesday, December 1 at 5:00 pm and will be conducted via zoom.
OTHER
The Board had a few concerns that were discussed by the group.
NEW BUSINESS
BOARD MEMBER UPDATES
Claire Prince has been appointed to the County Board. The oath has been completed and all paperwork has been submitted to the appropriate County and State offices.
There is a vacancy on the District Board. Mary Eikner made a motion for Craig Kerfoot to serve on the District Board. Motion was seconded by Sylvia Shields. All District Board members aye.
ADJOURNMENT
The meeting was adjourned at 7:32 pm.
Respectfully submitted,
Kiowa County Hospital District Board
Mary Eikner, Secretary-Treasurer