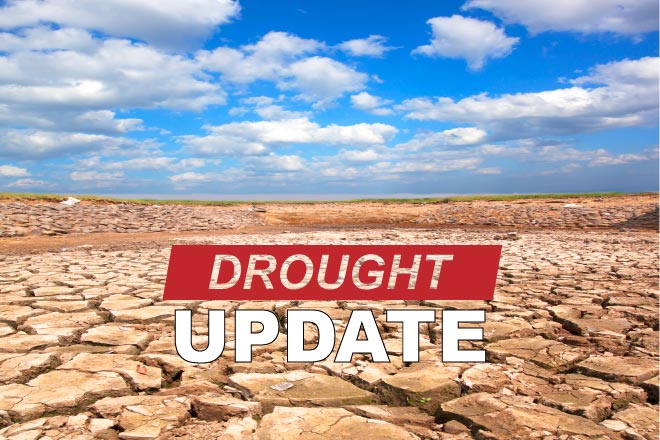 Published
Friday, March 8, 2019
One week after extreme drought made a nearly complete retreat from Colorado, severe conditions were also in sharp decline in the state.
At the start of the water year October 1, nearly half of Colorado was in extreme or exceptional drought, the two worst categories. This week, extreme drought is absent, less than one percent of the state is under extreme conditions, and severe drought dropped from 35 percent to 12 percent. Western Colorado continues to see the most significant improvements as frequent winter storms blanket the area under increased snowpack.
Severe drought now mainly covers south central Colorado, interrupted by a pocket of moderate conditions in the San Luis Valley. Remaining exceptional conditions are in southeast La Plata and Costilla counties, southern Archuleta County, and a sliver of southwest Las Animas County.
Parts of Moffat and Routt counties, along with nearly all of Jackson County, saw moderate drought drop to abnormally dry conditions. Parts of a few eastern Colorado counties also saw moderate drought shift to abnormally dry. Southern Douglas and central Elbert counties were the prime beneficiaries, in addition to northern El Pass and a small portion of west central Lincoln counties.
Overall, 11 percent of the state is drought-free, while 31 percent is abnormally dry, up from 27 percent one week ago. Forty-six percent of Colorado is experiencing moderate drought, up from 27 percent, with 12 percent in severe conditions, down from 34 percent. Extreme drought was steady at less than one percent of the state.
One year ago, 10 percent of Colorado was drought-free, with 19 percent abnormally dry. Twenty-five percent was in moderate drought, while 37 percent experienced severe conditions. The remaining nine percent was in exceptional drought.
Snowpack continues to increase, improving snow water equivalent measurements for this time of year. Statewide, snow water equivalent - the measure of liquid water available in the snowpack - stood at 127 percent of the median, up from 114 percent February 28. Individual basins across the state ranged from 118 to 136 percent of the median. The Gunnison and San Miguel, Dolores, Animas and San Juan basins were strongest at 136 percent, a substantial improvement from the mid-70s two months ago, while the Arkansas basin followed at 134 percent.
Drought categories include (ranked from least to most severe) abnormally dry, moderate, severe, extreme and exceptional drought.
Drought maps courtesy of the National Drought Mitigation Center. Snow water Equivalent map courtesy of the United States Department of Agriculture - Natural Resources Conservation Service.
Colorado Drought by the Numbers

Week

Date

None

D0

D1

D2

D3

D4

Current

3/5/19

11

31

46

12

1

0

Last Week

2/26/19

11

27

27

35

1

0

3 Months Ago

12/4/18

17

17

11

28

16

11

Start of Calendar Year

1/1/19

18

16

11

28

16

11

Start of Water Year

9/25/18

14

14

8

16

32

16

One Year Ago

3/6/18

10

19

25

37

9

0