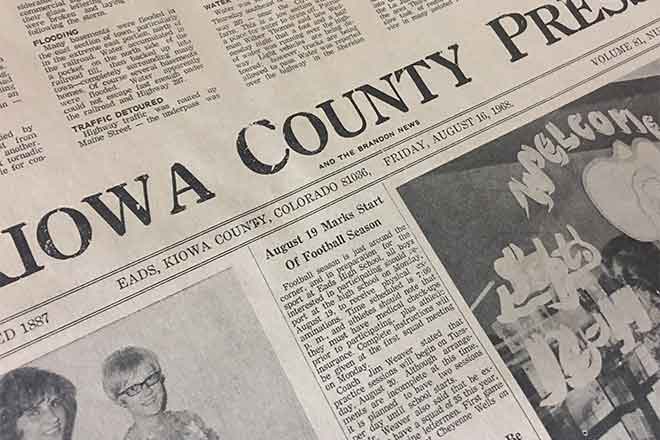 Published
Sunday, May 22, 2022
15 Years Ago
May 18, 2007
USDA Update- Rod Johnson: It is starting to look like we will harvest a larger wheat crop than we have seen in many years.
25 Years Ago
May 16, 1997
Mary Jenkins, past director of the Housing Authority of Lamar, will discuss helping smaller communities develop strategies for affordable housing at the next Eads Chamber of Commerce meeting.
40 Years Ago
May 14, 1982
The dedication of Unity Village is set for May 22.
The Eads Volunteer Fire Department, with the help of several local residents, quickly brought a prairie fire, burning south of Maine St., under control.
Weisbrod Memorial County Hospital and Nursing Home's first annual "Bake-off" was a big success.
The Chivington Postal route, 81063, is open for bids.
50 Years Ago
May 19, 1972
In Kiowa County, 40 seniors graduated. Diplomas will be handed to 26 Eads graduates and 14 to Plainview seniors.
75 Years Ago
May 16, 1947
No bounty will be paid on coyotes after June 1, 1947.
Kiowa County was greatly favored by a general rain that deposited a total 1.30 inches.
100 Years Ago
May 22, 1922
Crowley Mill burned shortly after the passing of the west bound train. Smoke was spotted by manager J.A. Mast, who turned in the alarm.